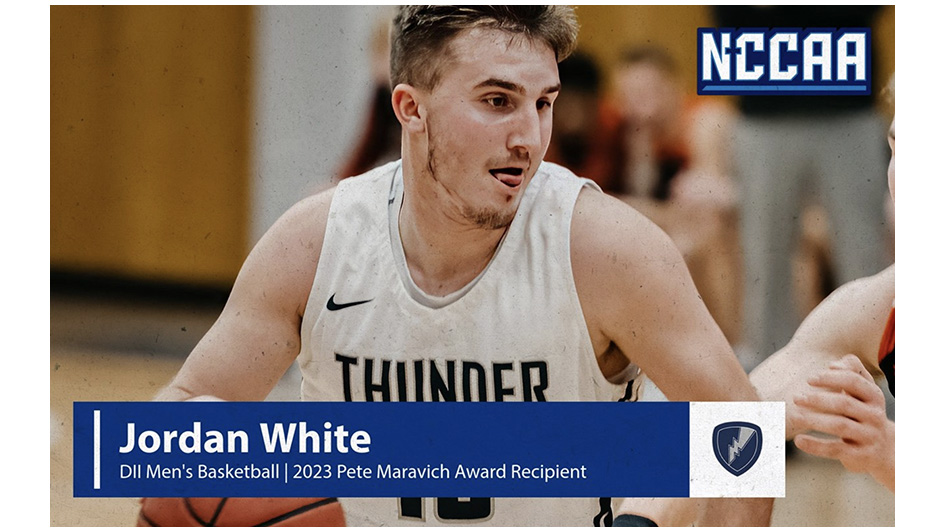 Jordan White of Manhattan Christian College recently was named the 2023 Pete Maravich Award recipient for Division II of the National Christian College Athletic Association.  
White, a senior guard on the Thunder basketball team, "leads by example through his work ethic and character on and off the court. He's always the one tasked to guard the opponent's best player, regardless of position," according to an article at NCCAA's website. 
"Jordan is committed to Christ and has been the same, consistent guy every day for the last four years," said head coach Jordan Strom. "He is the epitome of what we want our student-athletes to be." 
Tyler Alarid of Ozark Christian College also was a finalist for the Pete Maravich Award. 
The MCC Thunder advanced to the National Championship game for DII over the weekend before losing to Kansas Christian College. Ozark Christian College, Joplin, Mo., hosted the DII men's and women's championships. 
Other men's teams completing strong seasons were Great Lakes Christian College, which dropped the consolation final to third-place finisher Crown College, and Ozark Christian College, which defeated Toccoa Falls College in the fifth-place match-up. 
In women's DII basketball action, the Ambassadors from Ozark Christian dropped the fifth-place game to North Central University on Saturday.