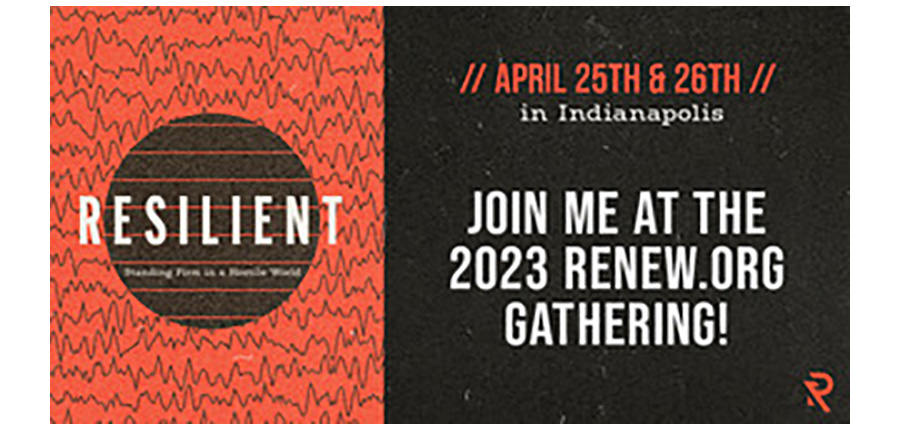 The 2023 RENEW.org National Gathering will take place in Indianapolis April 25–26. The gathering will be celebrating the teachings of Jesus that fuel disciple making! Go to RENEW.org/events for more information. Prices go up at midnight Thursday.
_ _ _
EnterMission—a gap-year and gap-semester ministry for those who are 17 to 23 years old—will have stateside collaborations with Pinehaven Children's Ranch, Voice of the Martyrs, and American Indian Christian Mission when it starts its fourth year in August, reports director Chris Irwin. EnterMission has spots available for young adults interested in investing in their spiritual formation with hands-on ministry experience. Learn more at www.EnterMission.org.
_ _ _
Mid-South Christian College, Memphis, Tenn., plans to add two postgraduate degrees—a master's degree in Christian ministry and doctorate degree in ministry.
These programs will be offered in both English and Spanish and will be available primarily online with an on-campus component only once per semester. Both the master's and PhD programs consist of 30 hours of postgraduate credit and are designed to be completed within five semesters. The launch of the program is scheduled for August, according to the school's Facebook page.
Details of the syllabus, program cost, and application process will be posted at www.midsouthchristian.edu on April 17.
_ _ _
Francene Snell, wife of Dr. Jeff Snell, dean of the School of Christian Ministries at Johnson University, died on March 9 after battling cancer. Friends may call from noon until the 2 p.m. memorial service on Saturday, March 18, at Kentucky Road Christian Church in Mexico, Mo. Pickering Funeral Home is handling the arrangements.
_ _ _
More than 600 people came to Mt. Pleasant Christian Church in Greenwood, Ind., on Friday for their second-annual "Big Night Out" event for people with special needs. The event included a catered dinner, music, games, and other fun activities . . . "including getting a how-to in the cha-cha slide by [senior pastor] Chris Philbeck," according to an article in the Daily Journal.
_ _ _
Central Christian College of the Bible will host their Saints Summer Institute for high school students July 30 to Aug. 2. Tracks include Biblical Archaeology and Languages, Preaching, Contemporary Issues in Christianity, Bible Bowl Prep Camp, and Digital Christians. Learn more here.
_ _ _
Dr. Jennifer Newsome Martin, associate professor in the department of theology and program of liberal studies at Notre Dame University, will speak Thursday for the Hayden Lectureship at Emmanuel Christian Seminary at Milligan in Tennessee. The lectures are free and open to the public.
Martin's three-part lecture series "On the Art of Seeing: Theological Aesthetics for the Church" will take place at 10:30 a.m., 2 p.m., and 7 p.m. in the Mildred Welshimer Phillips Memorial Chapel in the B.D. Phillips Building. 
The Hayden Lectureship honors the legacy of Dr. Edwin V. Hayden, editor of Christian Standard From 1957 to 1977. For more information, visit ecs.milligan.edu/lectures.
_ _ _
Village Christian Church pastor Mark Ingmire was interviewed about the importance of grandparenting for an article in the Daily Sun.
"Grandparenting is important to who we are, and we want to leave a legacy for our grandchildren," he told the newspaper in The Villages, Fla.
Last year, VCC offered a video seminar on "Grandparenting Matters" created by the Legacy Coalition.
_ _ _
Milligan University's men's and women's swimming teams both finished No. 5 in the nation at the NAIA National Championships in Columbus, Ga., earlier this month.
Meanwhile, at the NAIA Indoor Track & Field Championship in Brookings, S.D., Milligan women finished fifth overall while the men were eighth. 
In swimming, the Buffs set program records with 28 individual All-America honors. MU swimmers set 21 school records at the championships.
Freshman Riley Renaud became the first women's swimming national champion in school history, winning the 1,650-yard freestyle. Freshmen Peter Gilbert and Caleb Fry each became three-time individual All-Americans.
Gilbert and Renaud were tapped as the AAC Swimmers of the Year and AAC Freshmen of the Year, while head coach Spencer Scarth was named AAC Coach of the Year on the men's and women's sides.
In track & field, sophomore Bryn Woodall (3k), junior Alyssa Bearzi (5k), and junior Aaron Jones (5k) won NAIA national titles and the MU teams had eight top-five All-American finishes.
_ _ _
On Sunday, several students from Ozark Christian College, Central Christian College of the Bible, and Johnson University began a two-week study tour of Israel and Palestine led by field instructor Mark Ziese of Bible Land Explorer LLC. Rick Cherok of Ozark, one of the trip's "hosts," has been posting photos on Facebook.
_ _ _
Joe Kennedy, a public high school assistant football coach from Bremerton, Wash., who was dismissed for praying on the field after games, has finally been reinstated and will be back on the sidelines this fall, multiple media outlets reported.
The Bremerton School District punished Kennedy for praying on the field after games in 2015. Kennedy won his case in the U.S. Supreme Court in June 2022.
_ _ _
Send news to [email protected].