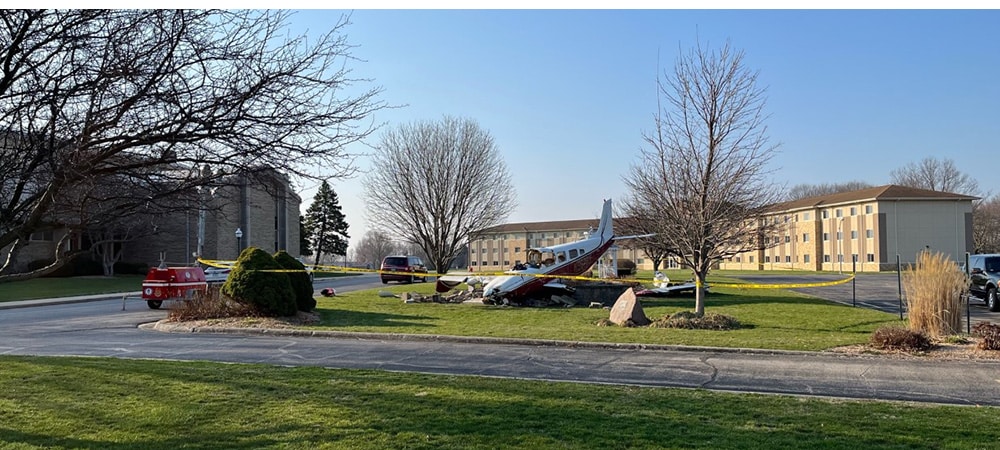 Two people in a small plane were injured when it crashed at about 7:30 Wednesday night on land that until recently was part of Lincoln Christian University in Lincoln, Ill., president Silas McCormick confirmed this morning.
At the time of the crash, a service for children was taking place in LCU's former chapel, now home to Open Arms Christian Fellowship. About 100 to 150 people were in the building, pastor Larry Crawford told The Pantagraph.
"Honestly, it's a miracle the way the plane was able to land and where it landed and that everyone was out of the way," Crawford, an LCU alum, told the newspaper. The minister did not hear the crash occur but was at the scene immediately afterward. He said church members called 911 and tried to assist those inside the plane.
The Pantagraph reported that the single-engine plane came to rest, nose-down, in a landscaped area of the parking lot, just west of the chapel. The plane's left wing was sheared off. Two men were taken to a Springfield hospital. Initial reports indicate their injuries are not life-threatening.
LCU's campus and the church property are located less than a mile from the Logan County Airport. Clyde Zellers, principle avionics inspector for the FAA, told WANDTV.com the pilot was licensed and was flying with an instructor; they were engaged in a takeoff and landing activity.
President McCormick had left LCU's campus shortly after 5 p.m. Wednesday. An employee notified him of the crash. McCormick told Christian Standard he immediately called Crawford to offer any assistance needed.
LCU began overhauling its educational model over a year ago. As part of that process, it began leasing part of its campus to Open Arms Christian Fellowship last June. Then, in early February, Open Arms purchased the chapel and several other buildings that had been part of LCU's campus.