Dr. Brian Baldwin has been hired as dean of students at Great Lakes Christian College, Lansing, Mich. He succeeds Dr. Michael Giles, who accepted a position as professor of humanities at the school.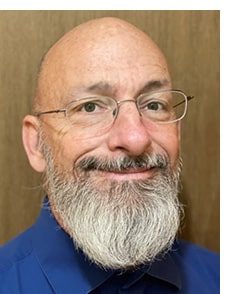 Baldwin has invested three decades in student engagement, first as a youth minister and then a campus minister at Murray State University (1996–2008), and then in several capacities at Kentucky Christian University (2008–2022). He is an advocate for students, and he comfortably interacts with both the spiritually mature and those whose faith is uncertain.
As dean of students, he will serve as the senior student affairs officer overseeing GLCC's resident supervisors and resident assistants. His office will work to promote student retention and academic success. Baldwin will also serve as part of the President's Cabinet.
"I am thrilled to have someone as gifted as Brian to join team GLCC," said GLCC president Dr. Frank Weller. "His addition reflects our vision to become the premier Restoration Movement Bible college east of the Mississippi River."
Baldwin will begin at GLCC on July 1.
Baldwin earned a bachelor's degree in psychology from the University of Tennessee. He earned the MDiv and DMin degrees from Emmanuel School of Religion in Johnson City, Tenn.
Baldwin and his wife, Carla, a high school chemistry teacher, serve their local church, church camp, and also minister to motorcycle clubs.
"I'm looking forward to seeing how God moves next at GLCC," Baldwin said.
_ _ _
News Briefs

Help our Metrics columnist write his next article! Take this survey today about hope in the church and beyond.
_ _ _
"Amazon releases 11,000 books every day," Matt Wilson, pastor of Ekklesia Christian Church in Conway, S.C., wrote on Facebook last week, "and check out which one took a #1 spot!" 
The book in question is Step into Scripture: A Daily Journey to Understanding Your Bible, written by Matt's wife, Tina Wilson.
Go to Amazon to secure a copy for yourself.
_ _ _
In FAME's newsletter last week, executive director Bill Warren wrote: "FAME recently approved the funding of a medical clinic on the Mindanao Island in the Philippines which will be the second floor above a new church being constructed this year!
"When asked on their application, 'How will this medical clinic be used in evangelism and church planting?' [they answered,] 'In every way!'
"That's exactly how medical evangelism works—EVERYTHING leads to evangelism!"
_ _ _
The International Disaster Emergency Service has been partnering with New Day Christian Church in Port Charlotte, Fla., for months to help people in that area recover from damage associated with Hurricane Ian, which made landfall on Sept. 22, 2022.
"Currently, we have over 90 homes that need repair," IDES shared last week, "and [we] are scheduling volunteers through September to help us with this huge demand. We need skilled and unskilled groups, youth groups, and individuals to come and help us finish this endeavor."
To assist IDES, click here or reach out directly at [email protected].
_ _ _
A recent Infinity Concepts and Grey Matter Research report found that 99 percent of evangelical Protestants believe praying, reading the Bible, and having a strong Christian faith all positively contribute to positive mental health.
The same study found 96 percent of respondents believe a strong Christian faith contributes to positive physical health.
These results and many other findings are detailed in the report, "Faith and Wellness: Evangelical Insights on Healing and Physicians," released on May 11. The full report is available here.
_ _ _
A Lifeway Research study found more than 2 in 5 U.S. Protestant churchgoers (44 percent) say their congregation and its leaders are proactively involved with adoption and foster care in at least one of seven ways.
Also, more than 1 in 6 churchgoers say someone in their congregation has provided foster care (16 percent), adopted a child from the U.S. (13 percent) or adopted a child from another country (11 percent) within the last year.
_ _ _
Send news to [email protected].