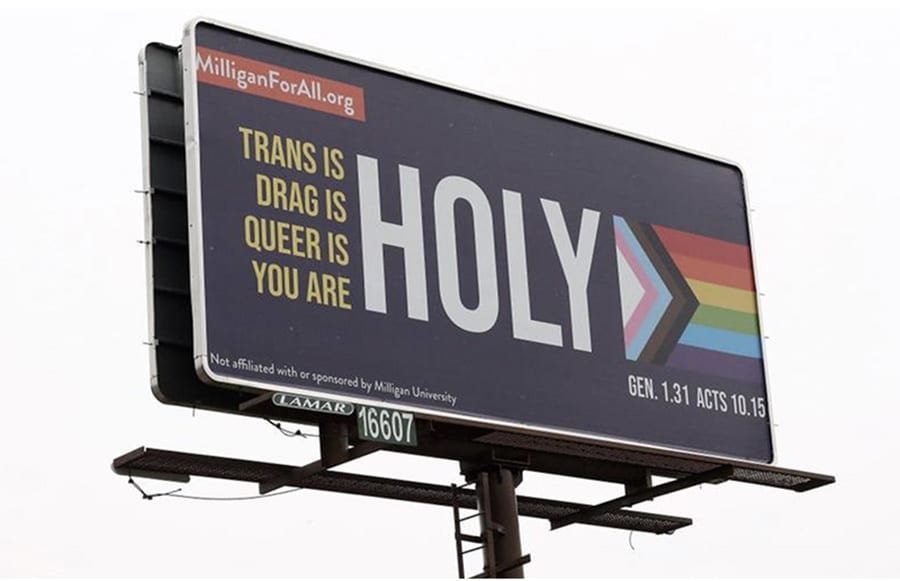 A group is protesting Milligan University's avowed biblical position on human sexuality by posting on a billboard near campus last month that "Trans is Holy," "Drag is Holy," "Queer is Holy," and "You are Holy." Genesis 1:31 and Acts 10:15 are cited as supporting Scripture. 
That group, Milligan for All, started in 2021. One if its members, Molly Dycus, who came out as LGBTQ while at Milligan (and who graduated on Saturday), told WJHL.com that it is the group's fifth billboard as they continue to push for change at the Christian university in Tennessee. 
Earlier today, Milligan University president Bill Greer told Christian Standard, "Because of our biblically based position on marriage and human sexuality, we continue to be attacked." The group Milligan for All, he said, "want[s] us to change our position."
Milligan for All, which is comprised of alums and others associated with Milligan, has been disappointed that "there's not a whole lot of change that's really actually happened" since some initial discussions with Milligan's leadership, Dycus told WJHL for their news story.
Milligan for All's website states it is an "open and affirming alumni collective. . . . We seek to transform MU into a place that fully embodies and expresses Christ's love—a place welcoming of all gender identities and sexual orientations." 
Milligan's position on marriage and human sexuality is posted at the school's website; it starts with a "Letter from the President" dated May 3, 2021. In it, Bill Greer says, "Milligan is committed to providing a loving and caring community for all students—including our LGBTQ students."  
In the letter, Greer says the university has had discussions with student groups about how the school "can better support LGBTQ students, even while honoring our beliefs," namely, "our longstanding belief that the Bible portrays sexual intimacy as a gift from God intended to be expressed within a covenant marriage between one man and one woman."
The letter stressed that "Milligan does not have anti-LGBTQ student policies."
Greer said today that Milligan's biblical position on human sexuality has not changed, nor has its emphasis on providing a safe and loving community for all.
"We have heard from an overwhelming number of alumni, friends, and supporting churches that they are grateful for our continued stance upon the Bible for direction in this and other matters," Greer said.