A few hundred people gathered Saturday morning at Northeast Christian Church in Louisville, Ky., for Christian Standard editor Michael C. Mack's funeral service. Mike, 63, died of a blood clot on Aug. 24 while mountain biking in Colorado.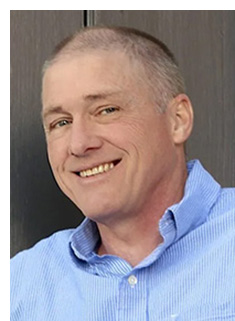 Lead pastor Tyler McKenzie conducted the service. He spoke of Mike's enthusiasm for matters of faith and service and his frequent encouragement after weekend sermons. 
"While we lost him too soon, I know Mike," McKenzie said, "and if he got to choose how he went to meet Jesus, then he got it. Biking with his friends on a beautiful mountain in the middle of God's glorious creation."
McKenzie shared part of a note he received from Mike's daughter Sarah: 
"Dad always wanted to be outside, whether we were camping at White Mills, taking a bike ride, or hiking. He was the gardener of the house, always fiddling around with the yard. He would find turtles for us to see and then return them to the woods. He made biking trails in the backyard by the creek that all of us would use to walk or ride. He would live outside if he could."
Afterward, a brief graveside service was conducted at Floydsburg Cemetery near Mike's home in Pewee Valley, Ky. 
_ _ _
News Briefs
Mid-Atlantic Christian University (Elizabeth City, N.C.) marked the third anniversary of the collapse of Heritage Hall, its main classroom building, last Tuesday.
"We continue to give praise to God that no one was injured or killed on that fateful day," the college wrote on their Facebook page. "We rejoice in the fact that God has sustained us through the building of a new cafeteria and a building program for Heritage Hall (to be completed by the end of the month)." 
This week, on Thursday, MACU will mark the 75th anniversary of a small group of leaders coming together to start the school. MACU graduates now serve in 48 states. The Founder's Day chapel service starts at 10 a.m.
_ _ _
On Sunday, Chris and Rhonda (Roby) Bacus celebrated 40 years of ministry at Anchor Christian Church in Rochester, N.Y. As part of the surprise celebration, well-wishers "showered" the couple with cards. It's not too late to offer congratulations. Send good wishes to Chris and Rhonda Bacus, c/o Anchor Christian Church, 375 Beaver Road, Rochester, NY 14624.
_ _ _
IDES is working with two churches in Florida in the aftermath of Hurricane Idalia, which made landfall Aug. 30; the mission agency also is preparing to send an assessment team to Morocco to assist with partners in the region after a deadly earthquake over the weekend. Go to the International Disaster Emergency Service website and Facebook page to learn how you can help.
_ _ _
Redemption Christian Church recently released The House of God, Forever: A Psalms EP, the 12th recording project released by the Indiana church or its various bands over the last dozen years. The five-song extended play recording is available via streaming and digital download services.
The project comes on the heels of the church's recently completed sermon series—Summer Playlist—which examined various chapters of Psalms. The EP's songs center on or were inspired by Psalms 10, 23, 46, 51, and 63.
The songs feature Redemption staff members Ryan Lynton, Daniel Ross, and Caleb Spencer. Staff member Kurt Neighbors co-produced the project. Church volunteers and friends provided assistance. 
The church currently has eight different bands of varying musical styles. Redemption has campuses in Jasper, Loogootee, and Tell City, Ind. 
_ _ _
Three Orchard Group church plants conducted their first services over the weekend: Rū Church in Tampa, Fla.; Counterculture Church in Portland, Ore.; and Refuge Church in Ojai, Calif.
_ _ _
Mid-South Christian College (Memphis, Tenn.) will host a Ministers Appreciation Banquet on Oct. 13. Ministers and their spouses are invited to attend. The speaker will be Jody Owens, professor of Bible and congregational ministry at Johnson University (Knoxville, Tenn.) and director of the Spiritual Formation Leadership Summit. Free hotel accommodations are available on a first-come, first-served basis. Call Jane Gibson at (901) 375-4400 to reserve a spot.
_ _ _
Milligan University freshman Cameron Walker, of Murfreesboro, Tenn., was the inaugural recipient of the Eli Cramer Memorial Scholarship, which honors the life of a standout student-athlete on the Tennessee school's cross country and track teams who died on March 31, 2022, after he and two other teammates were struck by a car. Walker's work ethic, character, and zeal for supporting other runners are all qualities that Cramer demonstrated.
_ _ _
Send news to [email protected].