Mark Collis was born in London, England, in 1851, moved to Adelaide, Australia, at age 3, and came to America in 1874. He attended Transylvania University and the College of the Bible in Lexington, Ky. After graduating in 1881, he became minister at Midway (Ky.) Christian Church. Ten years later, in 1892, he began serving as minister with Broadway Christian Church in Lexington. "Over the next thirty-eight years he assisted in the building up of that church, seeing the additions of 6,328 members." In 1930, Collis transitioned to the role of minister-emeritus. He died in 1955 at age 103.  
(Mark Collis's biography and photo gleaned from TheRestorationMovement.com) 
_ _ _
Conditions that Make for a Long Ministry
For over forty years Mark Collis has ministered with Broadway Church, Lexington, Ky. Here he lets us into the secret—unblemished reputation, scrupulous use of time, patience, sense of humor, faithfulness to the New Testament teaching, and unselfishness.
By Mark Collis, Minister-emeritus, Broadway Christian Church, Lexington, Ky.
Sept. 9, 1933; p. 1
Some claim that a long ministry is most to be desired, while others give good reasons for a shorter term of service. Whether it should be long or short depends upon the man, the church and the community. When, however, conditions are favorable, the long ministry, in the judgment of this writer, is most productive of good.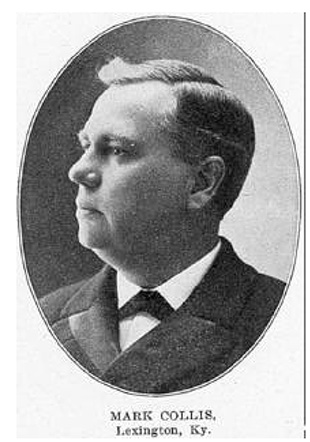 Every minister should regard the entering of a new field as a serious matter. He should look upon his call to it not only as a call from the congregation that he is about to serve, but as a call from the Head of the church. Ordinarily he should enter upon the work as if it were to be for life. For one to look upon any field as a stepping-stone to one more lucrative or more desirable for social considerations, shows that he is not a true servant of Jesus Christ. For one to accent a work with the expectation of staying three or four years, till he has gone through his stock of sermons, shows that he is indolent. There are preachers who last only three or four years. One of this class astonishes the people with his wonderful eloquence the first year, the second year his sermons are mediocre, the third they are stale and flat, the fourth year (if he lasts that long) he falls like Lucifer. A man who starts in to preach as if he were going to stay in that field for twenty-five years or more will never suffer the humiliation that happens to the three- or four-year man, for he will study diligently, he will give greater care to the preparation and the delivery of his sermons, and the longer he stays with the church the better he will preach.
The real minister will feel that preaching is only a part of his work. He will try to know the people among whom he lives. That knowledge will come from constant intercourse with them. He will sympathize with their joys and their sorrows. He will serve them in every way that he can. He will see their children grow up. He will marry them. He will bury their dead. He will know them, and, like the Good Shepherd, will call them by name. He will be a friend to all. By many he will come to be loved as a father. This service will be rendered not only to the members of the church that supports him, but to every one of the community whom in any way he has helped. Especially will he seek to bring the wanderer back to the fold, and lost men and women to that Saviour whose messenger of love and grace he is. He will not make light of visiting. Like his Master, he is glad to minister to individuals. He does not regard himself as superior to Peter and John, who, not only in the temple, but in every house, ceased not to teach and to preach Jesus Christ, or the matchless Paul, who preached Christ, warning every man and teaching every man in all wisdom, that he might present every man perfect in Christ Jesus, whereunto he also labored.
"Labored." The ministry is a work of faith and a labor of love. Strong temptations come to the minister to spend his time in ease and indulgence. He is not called upon to account to any one now. However, there is a time coming when he will have to give account to his divine Master. A lazy, pleasure-loving preacher seldom, or never, is one who spends many years in a single community, converting sinners, admonishing the wayward, comforting the sorrowing, teaching those who are eager to learn, building up the body of Christ. The ministry of such a preacher is not likely to be a long one. But when a preacher gives himself wholly to the work; when in season and out of season, he labors for the good of the community—he wins a place in the affections of the people that will grow stronger and stronger as the years go by.
One of the most useful assets of a preacher is an unblemished reputation. "Keep thyself pure" is as important for the preacher today as it was when the exhortation was given to Timothy. There are many snares. The preacher's conduct should be such as to give no occasion to the adversary. The slanderer can never be silenced. His lips are full of deadly poison. He delights in mischief. But the preacher should live such a life that he is not afraid of any malicious tongue. Then, for the sake of his own good name and of the church that will be damaged, if untrue, vile statements are permitted to go unchallenged, he should diligently trace down those slanders, and nail them to the forehead of the one with whom they originated.  
A long ministry can not be enjoyed by one who does not scrupulously meet his financial obligations. A preacher who is continually being hounded by the collector will lose the respect of the community; he ought to lose respect for himself. A preacher should live within his income, whatever that income may be. It may be necessary for him to do as Paul did, to labor with his hands. But honest he must be.
A preacher should not expect special favors. To give hints for gifts for himself or his family, or to ask for special discounts because he is a preacher degrades his calling and robs him of that spirit of independence which he should most jealously guard. If he expects to enjoy a long ministry, the preacher should be a real man.
In the course of his ministry the man of God will have his trials. Difficulties will arise. He will be criticized. False brethren will give him trouble. Paul had his Alexander the coppersmith, who did him much harm. John tells us of Diotrephes, who loved to have the pre-eminence. Similar men will annoy the preacher today. To meet them he needs the wisdom that comes from above and is given to those who pray for it.
But don't let us forget that there are many criticisms and complaints that are too trivial to be taken seriously. A kindly remark, an apt story, a good laugh, may banish the whole difficulty away. Some preachers ruin themselves by making a mountain out of a mole hill. How the saving grace of humor helps!
It is the judgment of this writer that the preacher should not be an elder. He can counsel the elders, but it will often happen that he can serve the church better by not being one of their number. He should not be a dictator. He should recognize the authority of the elders, and be governed by it. Yet, if a question arises in which the elders are governed by passion or prejudice, and clearly are not acting according to the teaching of the New Testament, he should appeal to the congregation who chose the elders, and who have a right to displace them if they are not true to the great Head of the church and his revealed will.
If the preacher seeks divine help and guidance, it is astonishing how difficulties in his ministry will be removed, how the rough places will be smoothed, and how men who once opposed him will come to be his true friends. But the minister should not be too sensitive. An unkind remark or the opposition of a small group should not drive him away from a field where he is needed.
I am of the opinion that if in a year or two the preacher shows himself fit for his field of labor, an indefinite call should be extended, which carries with it the right of cancellation by the church or the preacher on two or three months' notice. An annual call gives an opportunity for disaffected members to get busy, and to make it very uncomfortable for one who is doing the very work that the church needs. A man who loves the cause of Christ more than his own interests will readily see when he should leave a field where his usefulness is ended, or is not as great as it should be. If he does not see it, it is the business of the elders to make him aware of the fact.