Wayne B. Smith, longtime senior minister with Southland Christian Church in Lexington, Ky., first preached this sermon on "Playing Hurt" on Super Bowl Sunday in 1983. He continued to preach it on the day of the big game each year thereafter. We published this version of his sermon in 2012 (but truthfully, we probably published it one or two other times).
– – –
Playing Hurt
By Wayne B. Smith
June 10, 2012; p. 4
The greatest thrill, the greatest dream, the greatest goal of a football player's career is to play in the Super Bowl. To be able to wear the ring of a Super Bowl champion is the greatest accomplishment of all. I'm told that being tackled in an NFL game is like running into a brick wall. In spite of their unbelievable conditioning, nearly all of these players play hurt.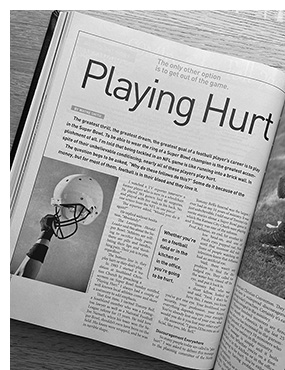 The question begs to be asked, "Why do these fellows do this?" Some do it because of the money, but for most of them, football is in their blood and they love it.
I watched a TV reporter interview a former player who is now in a wheelchair. He played 383 games; had 40 surgeries, and played with five rods in his back. No one retires from the NFL in one piece!
The reporter asked, "Would you do it again?"
He replied without hesitation, "Absolutely."
The Lexington Herald-Leader said this about the Super Bowl: "Athletes are willing to sacrifice body parts; there are pills and needles, biting their lips and throbbing pain. Their job is to play, regardless."
The bottom line is, they play hurt or they don't play.
In 1983 I started a tradition at Southland Christian Church by preaching a sermon on Super Bowl Sunday entitled, "Playing Hurt." I always had a couple of well-known local athletes come and share a testimony to add emphasis.
That first time, I invited Tommy Bell, a Southland member who was a Lexington lawyer as well as a National Football League referee for 15 years. He told how Joe Namath, when his team won the Super Bowl, shouldn't even have been on the field. His knees were wrapped, and he was in terrible shape.
Tommy Bell's funeral was the largest I ever had in my 51 years of ministry. It was just unbelievable. I told one of Tommy's favorite stories about a Super Bowl game in which the Kansas City Chiefs were playing and Tommy was one of the referees.
Fred Arbanas, an end, hit another fellow head-on, and one of Fred's eyes popped out. Not until that moment did millions of people watching on television know that Arbanas had an artificial eye.
Well, there wasn't any problem to find the dislodged eye. They called for the water boy, rinsed off the eye, and put it back in.
Tommy Bell, who was a short fellow, looked up and said, "Fred, I don't believe this. I mean, you know, you've got one eye. Your livelihood, your security, your profession, your future; everything depends upon your eyesight. You've already lost one of your eyes, what would you do it you lost your other eye?"
He answered, "I guess I'd become an official, like you, Mr. Bell."
DISCOURAGEMENT EVERYWHERE
So many people today are called to "play hurt." I was asked to deliver this message to the planning committee of the North American Christian Convention. They felt that there is widespread discouragement among today's preachers. Certainly it's easy to be discouraged in the ministry.
Thirteen hundred ministers are fired every month in America. In the last 25 years, divorce has increased in the parsonage 65 percent. For every 10 ministers who begin, only one retires in the ministry.
The message is simple and it boils down to this: Whether you're on a football field or in the kitchen or in the office, you're going to be hurt. You've either had problems, are having problems, or will have problems.
The Bible tells us suffering is inevitable. Job says, "Mortals, born of woman, are of few days and full of trouble" (Job 14:1). The only way to avoid troubles in life is to die!
Have you ever been depressed, misunderstood, given a raw deal, had rumors told about you, or been victimized by jealousy? Ever had a serious illness, been lonely, discouraged? Are your children not what you hoped they would be? Is your marriage not what you anticipated?
What does the Bible say? It says stay in the game. "No one who puts a hand to the plow and looks back is fit for service in the kingdom of God" (Luke 9:62). "The one who stands firm to the end will be saved" (Matthew 10:22).
The question is, "Will you stay in the game?" That's my question.
God had only one son without sin, but no son without sorrow.
Paul says, "We are hard pressed on every side, but not crushed; perplexed, but not in despair; persecuted, but not abandoned; struck down, but not destroyed" (2 Corinthians 4:8, 9).
What's Paul saying? "I'm down, but I'm not out."
In Romans 8 Paul lists some of the things that can take us out of the game: trouble or hardship or persecution or famine or nakedness or danger or the sword (v. 35). But Paul shares the one verse that we must never forget: "In all things God works for the good of those who love him" (Romans 8:28).
If I didn't believe that, I'd be gone. I've had 10 operations. Sometimes it has been hard, but he says, "ALL things." What'd you say, Lord? All things, even bad things, work for the good of those who love him.
TRUSTING GOD
I can't trace God, but I can trust God. There are three points we must not forget:
You must learn to play when you're hurt physically. Paul did. "Five times I received from the Jews the forty lashes minus one. Three times I was beaten with rods, once I was pelted with stones, three times I was shipwrecked, I spent a night and a day in the open sea" (2 Corinthians 11:24-25).
And then he said, "I was given a thorn in my flesh . . . therefore I will boast all the more gladly about my weaknesses" (2 Corinthians 12: 7, 9). Can you believe that? "That is why, for Christ's sake, I delight in weaknesses, in insults, in hardships, in persecutions, in difficulties. For when I am weak, then I am strong" (2 Corinthians 12:10).
Lou Gehrig played first base for the New York Yankees for 15 years. He hit home runs in seven World Series, but that's not important. What's important is this: he played 2,130 games without ever missing one! Every time they had a game, he played.
When he retired, they X-rayed his hands. Every finger had been broken once, some twice, and some three times! But he never missed a game. He played when he was hurt.
Play when you're hurt emotionally. Our Lord must have been hurt. At the first "Sunday school picnic" he fed 5,000. Then he said, I want someone to preach, and it dropped down to 500. I want someone to pray; it dropped down to 120. I want someone to witness; it dropped down to 70. I want some disciples, and it dropped down to 12. I want someone to pray with me all night, and it dropped down to three. Then, on the cross, only one stood there alone with him.
I'm sure he was hurting emotionally, but he "played on."
Let me tell you about Jackie, who worked in the office with Bob Russell, longtime minister at Southeast Christian Church in Louisville.
Jackie went to Cincinnati Bible Seminary, married a very promising young man, but he decided he wanted somebody else.
Her father was a Christian minister in Pennsylvania; he drowned at a Sunday school picnic at 38 years of age.
Her only son, a 17-year-old boy, was killed in an automobile accident. She lost a husband, her father, and her only son. I would call that playing hurt.
Today Jackie has remarried and is serving along with her husband as a missionary in Kosovo.
Don Fightmaster lost an arm in a car accident as a young man, but was determined to excel at golf. He became the National Disabilities champion and was inducted into the Kentucky Golf Hall of Fame. When he accepted the honor, through tears, he quoted the disabilities motto: "It's not what I lost that counts, it's what I do with what I have left that matters."
The third thing to remember about playing hurt is that your faithfulness will be remembered by the depth of your love. Why do people hang on? Because they're surrendered to a cause they love.
How much do you love what you're doing? That's how long you're going to stay in the game.
Several years ago U.S. News & World Report told about a little girl, 7 or 8 years old, very thin, who pulled her 180-pound father out of a swimming pool and saved his life. They asked her, "How did you do that?"
"Oh," she said, "it was easy. I love my daddy."
When your motive is love, your possibilities are amazing. The key is not to quit. Salvation is free, but it's not cheap. God wants you in the game, and it's only love of God that keeps you in the game.
Suffering is inevitable; misery is optional! You either play hurt or you don't play at all.
The test of one's devotion
Will come some other day;
They love God most
Who are at their post
When others go away!
Wayne B. Smith helped start Southland Christian Church, Lexington, Ky., in 1956 and served as her senior minister until 1995. During that time, he grew the church from 152 to 3,700 weekly. He died in 2016 at age 87.