The missionary who shares his opinions and experiences in this article, Bernel Getter, attended Minnesota Bible College, married a college classmate in 1947, and set sail for India in January 1948.  
An obituary from 2019 states, "Bernel Getter, together with his faithful wife Sally Joan McNamara, worked for 66 years to build schools and churches, develop sports programs, spearhead agriculture, health, and nutrition initiatives, dig clean water wells, train mechanics, and most importantly preach the gospel." 
Joan Getter died in 2005 at age 78. (We posted her obituary that year.) Bernel Getter died at age 93. 
_ _ _
The Greatest Enemy of Christianity in India
By Janice Turner
Oct. 3, 1953; p. 7
"Denominationalism is Christianity's greatest enemy in India."
That's the way Missionary Bernel Getter puts it, plainly and without varnish. "Denominationalism is an enemy more deadly than Hinduism, Mohammedanism, or any other native religion," he adds.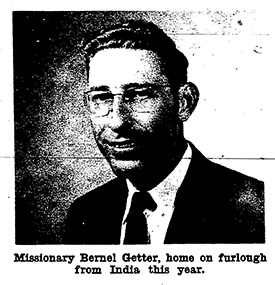 "In almost every village," he tells the Midwestern audiences to whom he has been speaking this summer and fall, "men come to ask me, 'Sahib, are you of the German mission or the Roman mission?' And when I say neither, that I'm just a Christian, they say, 'What? Another group, too? How can we know what to believe if you missionaries do not even agree among yourselves?"
Bernel Getter, a young Wisconsin missionary who is home on furlough after five years in India's Central Provinces because of a severe case of malaria, thinks denominationalism is even more virulent in India than in the United States. Sometimes, far from the restraining influence of a supporting church or mission board, Indian denominationalism assumes strange forms.
"For instance," he says, "when we Christian missionaries began to have more converts in Sarguja District, one denominational group told the natives that thousands of persons have drowned while being baptized. And now, in every new village we preach in, we hear this question, 'Sahib, is there great chance of my drowning if I am baptized?'"
Another instance he tells about is that of Obadiah Kuzur, for thirty-five years an Indian denominational preacher. But Preacher Kuzur understood his Bible better than he did his own denomination, Getter says. When Getter and his New Testament· co-workers came to Kumur's village, the dignified old preacher greeted them like brothers and invited them to stay at his home. This gesture incensed his superiors, however, and they sharply reprimanded him. Brother Kuzur was puzzled and hurt: wasn't a Christian to be hospitable? And after some long talks with the Christian preachers, he made his decision. "You, men," he said, "represent what I have longed to be for many years—a Christian only." He was baptized and is now preaching the gospel according to the New Testament.
Another recent example is that of the entire congregation in a little village called Chichinda, a group which was "ex-communicated" after it refused to pay ten rupees a month to a central church-governing office. "We can find nothing about such payments in the Bible," the members insisted stoutly, and shortly thereafter they became a New Testament church. Excommunication, Brother Getter adds; is a grave threat to the average Indian denominationalist because it means he will be buried outside the cemetery wall. Many have the idea that it also means he will be shut out of heaven.
Brother Getter is one of twelve Christian missionaries in the central, hilly area of India around Bilaspur, where Mr. and Mrs. Harry D. Schaefer pioneered their mission in 1913. Mr. Getter, his wife and two small children call Katni home, though actually he is there only five months out of the year. The rest of the time he travels by jeep or motorcycle to remote villages, some of which have never heard the gospel.
Emphasis of the work is now on Sarguja District, one of the last remaining frontiers for Christ to be opened in India. Lutheran and Catholic missionaries are also active in the district, and there is much opposition from native religions. But Getter and his colleagues are aided by a team of thirty native preachers trained in an intensive Bible course in January, February, and March. These young men have no language difficulties and can quickly gain the confidence of their hearers because they are Indians, too.
A favorite evangelistic procedure is for Getter and a native worker to go to a Sarguja village on market day, when everybody is already gathered in the marketplace. The jeep is parked, pictures of Biblical scenes are hung all over it, and the two men begin to preach. Often a magic lantern presentation of the life of Christ is given at night. When the road is nothing more than a path through the jungle, Getter and his helper travel by motorcycle. In a few places they have had to abandon market-day preaching because of the dangerous hostility of some native fanatics, but the work still goes ahead more quietly by personal evangelism.
The menfolk of a village are always approached first. If men are converted first, they will bring their wives into the church, too. But if the women come to Christ before their husbands, they will usually be driven away from home.
Getter and his co-workers are presently much concerned about the official attitude toward foreign missionaries in India. There is a friendly feeling at present toward the social worker, but the incoming missionary who plans only to preach is not so welcome. A few entry permits already have been denied.
The Getters plan to return to India next April. (Mr. Getter's malaria was arrested by a new Mayo Clinic treatment shortly after his return to the U.S.) They hope to take with them enough financial support for 100 native preachers, who receive a cost-of-living allowance of $10 a month. The Getters have a tremendous affection and sympathy for the Indian people, who live decently and with self-respect on very little, and who often accept God's Word and will with a zeal seldom seen in this country.
Getter likes to tell about one such convert, a young man named Prabhu Das Ekka, who until he was baptized a year ago entertained no hope whatsoever of a life after death. His religion was a curious, rather informal mixture of nature worship and fear of evil spirits, and he embraced the Christian faith with fervent enthusiasm. From the first, he wanted a Bible of his own. But Missionary Getter had exhausted his supply, so it was not until October, four months later, that one was available.
About ten weeks later, Prabhu Das Ekka enrolled in the class of thirty native men whom Mr. Getter was training to take the gospel to their own people. Though most of these men had been Christians much longer than Prabhu, his was almost always the first hand to go up when a Scripture reference question was asked. This continued throughout the three-month course.
Finally, after his star pupil had answered a particularly difficult question, Missionary Getter asked, "Prabhu Das Ekka, how much of your new Bible have you read already?"
The young man looked astounded. "How much? Why, all of it, Sahib—from Genesis to Revelation one time, and parts of the New Testament many times."
Prabhu Das Ekka, Mr. Getter explains, is not a typical Indian convert. He is a ten-talent man among several five-talent men and many one-talent men. But sometimes this same zeal which fires Prabhu is spread through an entire Indian congregation. When that happens, Getter says, the results are something to see.
The Chichinda church is an example. There the board of elders meets every afternoon after their work is done, and the topic of discussion is always this: "Where shall we go to preach Christ tonight?"
There are invariably about as many answers to this problem as there are men present. One elder says he has some cousins in a certain nearby village who have never heard of Christ—surely they should be told the good news. Ah, no, says another elder, insisting that they should visit his wife's brother in another village, since he has a very large family which might be converted all at once. And so goes the discussion.
The question is eventually solved, Getter says, by dividing the group. And so off they go, on foot and in twos and threes, to spread the gospel very much as Paul and Silas did in the first century A.D.
"I wish," Mr. Getter tells his Midwestern audiences pointedly and a little wistfully, "that some American congregations could be in Chichinda some evening to watch those men set out. I think they'd realize then that to win the world for Christ, every Christian must be a missionary."