My Thorn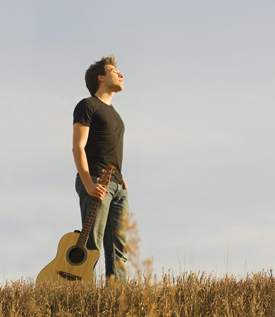 By Matt Rendulic
Severe bipolar affective psychosis. It's a condition I'm learning to live with. It's a weakness I'm learning to thank God for. It's a companion to every day of my ministry.
Paul seems a bit anxious and reluctant as he starts the 12th chapter of his second letter to the Corinthian church, "This boasting will do no good, but I must go on. I will reluctantly tell about visions and revelations from the Lord" (v. 1).* Then Paul begins to describe a time he was caught up into Heaven.
Upon initial reading, one probably says, "Awesome! I wish God would make his abode so clear to me." But Paul quickly adds, "That experience is worth boasting about, but I'm not going to do it. I will boast only about my weaknesses" (v. 5).
Then a rather famous passage begins, as Paul describes a weakness—a "thorn in the flesh" (v. 7)—that constantly overshadows his own strength:
So to keep me from becoming proud, I was given a thorn in my flesh, a messenger from Satan to torment me and keep me from becoming proud. Three different times I begged the Lord to take it away. Each time he said, "My grace is all you need. My power works best in weakness." So now I am glad to boast about my weaknesses, so that the power of Christ can work through me. That's why I take pleasure in my weaknesses, and in the insults, hardships, persecutions, and troubles that I suffer for Christ. For when I am weak, then I am strong (2 Corinthians 12:7-10).
This Scripture and Paul's experience have special meaning to me. Because finally I've decided that I, too, should rejoice in my weakness, even though it's a weakness I would wish for no one.
In the late winter of 2002, I was called to a cold, unused classroom. Assembled there were six professors for whom I had the utmost respect—a few music professors, a religious studies professor, and the president of the college. There also was a man I had never seen before; he was later identified as a doctor.
These professors summoned me because they were worried about me. Over a period of months they had witnessed a certain intensity in me. I recently had tackled numerous large-scale projects with proficiency. But during this period, they had witnessed in me a disregard for my own physical health and safety, and a lack of sleep. My private composition teacher noted a "fanatic and myopic focus on seemingly unimportant paranoia" and several neuroses that began to lead to psychosis.
My instructors recently had witnessed me slip into a serious melancholy that brought out my more morose and prone-to-pathos side. It was because of this rapid and striking change in my demeanor and personality that they, my beloved faculty, organized this intervention with a psychiatrist.
After months of therapy and consultations with a few psychiatrists, neurologists, and doctors, I was diagnosed with severe bipolar affective psychosis (formally called manic-depressive psychosis). Bipolar disorder is a condition in which people experience abnormally elevated (manic or hypomanic) states and, in many cases, abnormally depressed states for periods of time that interfere with life and living in society. Many, like myself, suffer with psychosis at the extremity in moods. It is biochemical, it is neuroelectrical, it is genetic—it is real.
I was prescribed Lithium and needed weekly therapy for quite some time. The medication didn't cure the illness, but it did take the edge off of the extremes, so instead of being suicidal, I was sad; instead of overconfidence and disregard for anything but my own current cause, I was focused and very effective as a young scholastic.
Discontinued Treatment
As this treatment began to work and I felt more normal, I decided to discontinue my treatment. I thought I could bear it by myself now that I had matured a bit. This was around the time of my graduation, and I soon moved on to Princeton for my graduate work.
After I finished all the coursework for my PhD and passed my oral examination (with honors), I quickly spiraled downward to the point of being suicidal. Without the proper treatment over the course of the previous few years, and without the intense schedule that I kept as a performer, composer, and teaching fellow, my life quickly fell apart.
I had pushed the dark memories of my illness far back in my consciousness, and then, at my weakest moment, all of them reappeared. I moved back to my hometown to begin to heal and, in that process, God called me to serve as a pastor at the Conneautville Church of Christ.
Staying Current
I'm staying current on the treatment of my mental illness, and I'm taking it very seriously. I have a good psychiatrist who keeps me medicated appropriately, so that my mood doesn't swing to a dangerous extreme in either direction, and yet not so much that it blunts my abilities or creativity. I go to behavioral therapy to help me work through issues this illness brings to the forefront of my everyday life; this, in particular, allows me to function, or at least not demonstrate some of the debilitating results of the episodes I face.
Those who are close to me know my struggles with this illness and what it does to me. Even while undergoing treatment, I have faced episodes where I am so depressed that every part of my body aches, and the prospect of getting up to do things seems impossible; or I may temporarily find myself in a state of despair. On the other end, my congregants may witness weeks where I work nearly 100 consecutive hours on a project and, in the process, become very out of sorts or even paranoid. My medications help me keep a clean thought pattern and give me the strength so that I do not always succumb to where my own mind wants to take me.
The fruit of God's work in my life is apparent in that God has taken my melancholy and made it a deep concern for those who suffer with loneliness and their own mental darkness. He's allowed me to foster concern for the personal welfare and spiritual welfare of the marginalized. When I am manic, he allows the creativity he has gifted me with to shine through.
When I Am Weak . . .
I have grown to appreciate my support network of friends and family—most are members of the church I serve. They see the subtle signs when I am sinking too low or flying too high, and they interact with me (even when I try my best not to allow them in), pray for me, and love me through the suffering and terrifying moments. I appreciate that they have taken the time to research my illness and make my well-being and health a part of their lives and concerns.
I, like Paul, recognize this "messenger [sent] from Satan to torment me," this "thorn in the flesh" as a method that God has, and is using, to "keep me from becoming proud" of the several gifts and talents I have, and to encourage me to work for his kingdom, and not my own selfish designs.
I've grown tired in the past few years of acting as if nothing is wrong with me; so 2012 is the year I will be "glad to boast about my weaknesses, so that the power of Christ can work through me. That's why I take pleasure in my weaknesses. . . . For when I am weak, then I am strong" (2 Corinthians 12:9, 10).
This year I am making a conscious effort to live in weakness and allow Christ to live through my weakness and transform it into strength. It's a strategy that gives me hope. It's a path I'd recommend to every Christian, even Christian leaders.
________
*All Scripture quotes are from the New Living Translation of the Bible.
Matt Rendulic is pastor of worship arts and operations at Conneautville (Pennsylvania) Church of Christ. He is a professional composer and arranger, poet, and writer.

9 Comments
Leave a Response