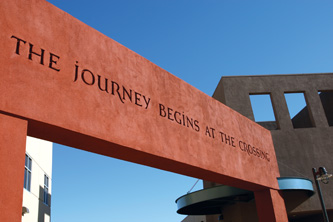 By Kent E. Fillinger
An apple doesn"t fall far from the tree. The Crossing, A Christian Church, located in the southwest quadrant of Las Vegas, Nevada, embodies this idiom.
The Crossing was planted by Canyon Ridge Christian Church on September 24, 2000, and is the youngest megachurch with an average worship attendance of 2,224 last year. Canyon Ridge, located in the northwest valley of Las Vegas, was birthed by Central Christian Church in 1993 and averaged almost 6,000 in attendance last year. Central Christian, also in Las Vegas, averaged close to 18,000 in worship last year. Those are some great church planting genes!
Shane Philip, senior pastor of The Crossing, joined the Canyon Ridge staff in 1994. At the time, Mike Breaux was senior pastor. One day in a staff meeting, Breaux told Philip the church intended someday to send him out to start a church. Philip balked at the prophetic statement because Canyon Ridge was still operating as a portable church and Philip had just come to Vegas from another portable church ministry in St. Louis. Philip could not fathom the idea of leading another portable church.
A few years later, Kevin Odor had become the senior minister of Canyon Ridge, and through his initiative and leadership, the dream of a new church in southwest Las Vegas was developed.
Odor led discussions between the elders of Canyon Ridge and Central, and soon Philip transitioned into a hybrid church planter role where he had offices at both churches and was involved in the preaching team at both churches. This move provided Philip with a base of volunteer support at both churches to support The Crossing"s launch.
The Crossing"s birth in September 2000 was boosted by financial support, people, leaders, and staff from two healthy, successful churches. The Crossing had 900 in worship that first Sunday, and a committed core of 500 remained. This strong nucleus has helped to propel The Crossing to record levels of growth.
Steady Growth
Leadership Network defines "rapid growth church" as increasing attendance 10 percent or more for at least three consecutive years. The Crossing qualifies as a rapidly growing church""and then some""having exceeded 10 percent growth every year for an entire decade. Since 2006, The Crossing has grown by more than 1,000 in average weekend worship attendance.
Philip describes the growth as "consistent and steady," noting that it did not feel as if attendance ever exploded.
The Crossing has grown in spite of a missed projection. The church was built on property on the edge of the city, in an area where future development was expected. It was anticipated within five years, and within 10 miles, the church would be surrounded by 700,000 people. But when the economy tanked, the projection never materialized, and the area is yet to be developed.
The failing economy has been devastating for the people of Las Vegas, but has opened a tremendous door of opportunity for The Crossing to minister to desperate people. The church has had to realign its budget with the new economic reality. Las Vegas led the country in the number of foreclosed homes. It was dubbed "the most stressful city to live in," not to mention still being ranked first in the number of divorces and gambling addictions.
Fewer Resources
The Crossing has been forced to serve its community with fewer resources. In 2008, the church cut its budget by 15 percent, or $400,000. In addition to laying off three staff members and not rehiring for several other positions, the church also has reduced salaries and frozen all pay for the last four years. The church eliminated the staff"s continuing education and travel funds. The leadership team cut back the budget several times to a "bare minimum," and even then there were occasions when it could not spend money already budgeted.
Through this belt-tightening process, Philip and his team discovered some ministries were not effective, which led to a strategy of simplified programming. An evaluation of ministries led the church to spend money only on strategic ministries that had a measurable return on investment. The church learned how to be more effective with less money. While it hasn"t increased its overall budget for three years, The Crossing has still seen an increase in baptisms, discipleship, and ministry involvement, and the church has grown 50 percent during this time. The church is reaching more people with less staff and money than it did before.
Knowing people are hungry and ready to hear the message of Christ now more than ever has reconfirmed Philip"s calling to Las Vegas. He said he is energized by the opportunity to change lives in such a fertile, ripe harvest field. Philip commended his staff for their understanding of the situation and noted they continue to serve without complaint.
The mission of The Crossing is "to help people discover Jesus and the Journey," and Philip acknowledged the mission can be achieved with limited financial resources because the mission is not tied to money.
Global Initiative
To celebrate its 10-year anniversary last fall, The Crossing developed a "10 for 10 Initiative" designed as an all-church project to start 10 churches and dig 10 wells in underdeveloped parts of the world.
The initiative evolved from a conversation Philip had with a church member who initially wanted to help sponsor children through a program the church participated in. There were eight people in the man"s blended family, so he decided to sponsor eight children. Then he asked Philip how much it would cost to build eight churches and dig eight wells instead. This conversation led to a $400,000 gift from this man, and leadership decided to challenge the rest of the church to raise an additional $100,000 to be able to start 10 churches and dig 10 wells in recognition of The Crossing"s 10th anniversary.
Philip stressed the level of sacrifice this offering required of the congregation, but the people gave $115,000 to the project in a single weekend.
Philip noted The Crossing has gone from "survival to success" during its first decade. He said the next phase is to shift from "success to significance." Philip has a dream of seeing the church make a difference by being more involved in local and global outreach efforts.
Another component of The Crossing"s 10-year anniversary was a day of service on a Sunday last fall. In total, 1,500 people served throughout Las Vegas, including 600 who rebuilt a homeless youth center.
Everyone who walks onto the campus of The Crossing must go underneath a walkway on which is printed, "The Journey Begins at The Crossing." This message has become a metaphor for people starting their relationship with God, and is a great way to reinforce the mission of the church.
Las Vegas is known as "sin city" in most of the country, but the churches in Las Vegas prefer to call it "grace city." Philip and his team consider it an honor to be a part of what God is doing in Las Vegas.
Kent E. Fillinger is president of 3:STRANDS Consulting and associate director of projects and partnerships with CMF International, Indianapolis, Indiana.