By Mark A. Taylor
CHRISTIAN STANDARD"s annual megachurch report has taken many forms since it was first introduced in 1997. Since 2008 Kent Fillinger has served us by presiding over the megatask of getting reports from more than 100 megachurches. Our issues have offered more information about this growing group of congregations than any other single source.
In 2009 we began reporting numbers from more than just the largest churches in the fellowship of Christian churches and churches of Christ. That year we published statistics from 66 churches whose worship attendance averaged 500″"999 in 2008. In 2010 we expanded the analysis with reports from 75 "Large" churches (those with a weekly worship average of 500″"999) and 32 "Medium" congregations (weekly worship of 250″"499). Because these churches submit to no denominational hierarchy that can require reporting, an effort like this is only as successful as the congregations choosing to participate. We"re glad for the growing number of congregations represented in our report year after year and pleased to list 344 congregations all at once this year.
We"ve decided to give readers a broad-brush overview of the dozens of data points Fillinger has gathered and then to focus on profiles of the fastest-growing congregations in each category, 12 churches with inspiring stories to tell.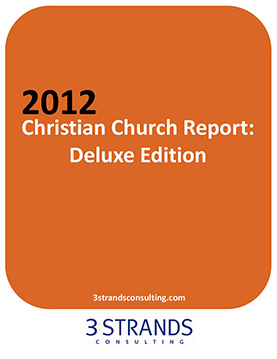 For those who"d like a much more in-depth look at the numbers, we"re providing the 2012 Christian Church Report""Deluxe Edition. Researchers, church planters, church growth professionals, as well as many local church leaders will want to get a copy of this download. Nowhere else will you find a more comprehensive analysis of congregations in our fellowship: trends, comparisons and contrasts, and information and ideas to help your own church"s outreach.
Order the 110-page Deluxe Edition (item number 025611013) for only $12.00 at www.standardpub.com.
But all of us know numbers aren"t the only thing that matters. They might not even be most important. We can increase attendance, expand our buildings, and baptize record numbers without penetrating culture or developing disciples. Fillinger himself acknowledges this, and Brian Mavis expands on the theme in this month"s "What"s Next" column. Mavis"s challenge to "measure our ministries based upon the Christlike life change people experience" offers a good balance to the numbers emphasis in many articles this month.
We intend to continue this data analysis. If your congregation is missing from the list where it belongs, please tell us by writing [email protected]. We want to include you in next year"s survey.