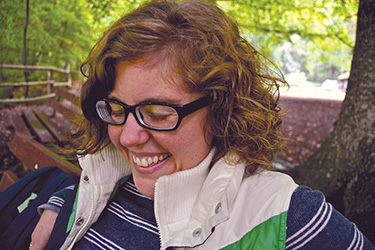 BETH JARVIS SILLIMAN
Globalscope team leader,
Christian Missionary Fellowship,
Tübingen, Germany
Unterwegs is a faith community in Tübingen, Germany, where students are embraced with love and acceptance, but it"s also a ministry that pushes them to consider the relevance of Christ and his church in today"s world. Beth Jarvis Silliman has led this CMF International Globalscope team and ministry since its inception in 2008 while her husband, Daniel, works on his PhD at the University of Heidelberg. Her role involves leadership development and discipleship of her team members and student leaders, teaching responsibilities, and helping to lead and organize all Unterwegs ministry events.
The average German college student thinks "Christian" is merely a label that shows up on his or her government ID. So the work in Tübingen is not easy or quick, but lately it has begun to see some fruit. Unterwegs recently celebrated its first student baptism, and the team has seen several students turn back to their faith heritage and reengage with the church.
Beth knows what it will take to see lives transformed and true revival in Western Europe: creativity in presenting the gospel, perseverance through difficult times, and a long-term focus. She understands better than most that this transformation will not happen overnight, but she is committed to offering her life for God to use in the process.
""Phil Tatum, Globalscope director, CMF International