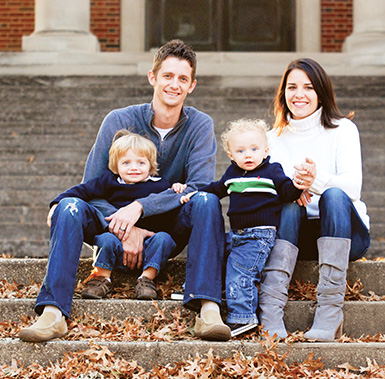 JAMIE SNYDER
Lead pastor, 
Lakeside Christian Church, 
Lakeside, Kentucky
I have long subscribed to the Christian leadership axiom, "The best indicator of future performance is past performance." Now, to be sure, it is not the only indicator; but the track record of any emerging Christian leader should not be ignored, especially in the area of their character.
This being true, it is encouraging to see the picture and name of Jamie Snyder on CHRISTIAN STANDARD"s list of "40 Leaders Under 40."
Even from his student days at Ozark Christian College, Jamie has been a young man with genuine humility and unfailing God-confidence. He took full advantage of every learning opportunity in the classroom and on the field during his formative years. His love for the Lord, his missionary heart, his passion for preaching, and his faithfulness as a husband, father, and church leader have been consistent through his early years. The pattern of his life has been one of listening and learning, and then courageously stepping up to take initiatory leadership.
Based on his past performance, I predict good things and God things in the years ahead for Lakeside Christian Church.
(Jamie"s first book, Becoming a 24/7 Â Follower of Jesus, will be published by Bethany House in October.)
""Ken Idleman, past president, Ozark Christian College, Joplin, Missouri; lead pastor, Crossroads Christian Church, Newburgh, Indiana