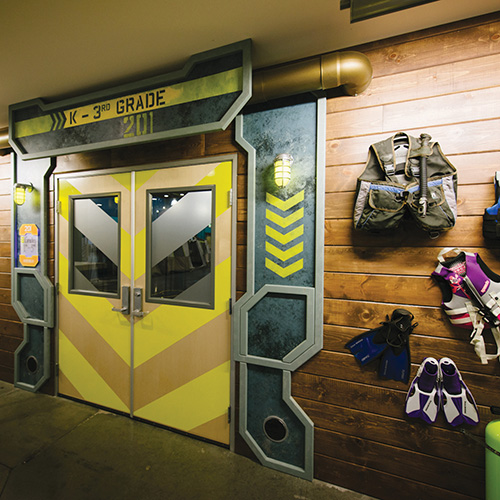 WHERE'S THE STEEPLE? — Bayside Church, Roseville, CA
By Jennifer Johnson
Lots of churches want to save money on their facilities, but Bayside Church is finding new ways to strategically finance its buildings without sacrificing form or function.
At its original campus in Granite Bay, the church has developed a 10-year plan to anchor an area of retail, entertainment, and hotels. The church occupies one parcel of the development and recently sold another section to Top Golf, a multilevel entertainment area and driving range. Their director of real estate development manages the plan, ensuring that funds for property improvement and parking lots come from new businesses and not from Bayside's offering plate—while the church enjoys proximity to thousands of new potential visitors.
At the church's Blue Oaks campus, an industrial warehouse became an indoor park with Astroturf and huge fake trees. Adirondack chairs provide seating for friends who want to relax with some of the best espresso in America. (Worship pastor Lincoln Brewster knows his coffee!) The ocean-rescue-themed kids' area includes donated personal watercraft, lifejackets, and oxygen tanks, and printed vinyl graphics add personality without adding much to the bottom line.
Bayside's facilities aren't extravagant, but they are effective in facilitating ministry —and cost-effective in facilitating growth.