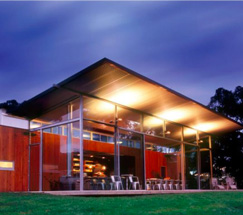 WHERE'S THE STEEPLE? — Discovery Christian Church, Broomfield, CO
By Justin Horey
Discovery Christian Church already has one slightly unconventional building, but its plans for future development are far more progressive and ambitious.
Broomfield, Colorado, is a high-tech city with rural roots, so Discovery's existing building—a 20,000-square-foot, multipurpose structure designed to resemble a barn—is a tribute to the city's history. With that facility in place, lead pastor Steve Cuss said Discovery plans to use the rest of its 18 acres in radical ways "to meet the needs of our city."
Discovery's motto is "Loving God and Serving Others," and the master plan for the church's site emphasizes those two priorities—half of the property will be for "loving God," and half will be for "serving others." Plans call for an affordable-housing neighborhood, an equine-assisted therapy arena, two buildings for licensed counseling, and two more for other nonprofit causes.
Cuss wrote his master's thesis on poverty in the Bible, and he is convinced the poor and rich have something to offer each other. So while Discovery plans to serve the less fortunate through affordable housing and free or discounted therapy, Cuss also hopes the people who come for assistance will find ways to contribute—perhaps by volunteering in the equestrian arena or in other programs on campus.
The master plan, while aggressive, is primarily an extension of Discovery's existing ministry philosophy. "Everything we want to do with our land, we're already doing as a church," Cuss said.
Perhaps the most radical part of Discovery's plan is financial. If possible, the church hopes to build out its acreage without borrowing money. Right now, the church family is paying the mortgage loan on Discovery's existing building, but Cuss hopes the community will pay for much of the future development through grants from people who share Discovery's vision—even if they're not believers.
Cuss sees the future development as an opportunity for the church to reestablish its relevance in the minds of its neighbors.
"In our area, people are getting less interested in what the church has to say," Cuss said. "But what if the church reclaimed healing and reclaimed caring?" That is what Discovery intends to do.