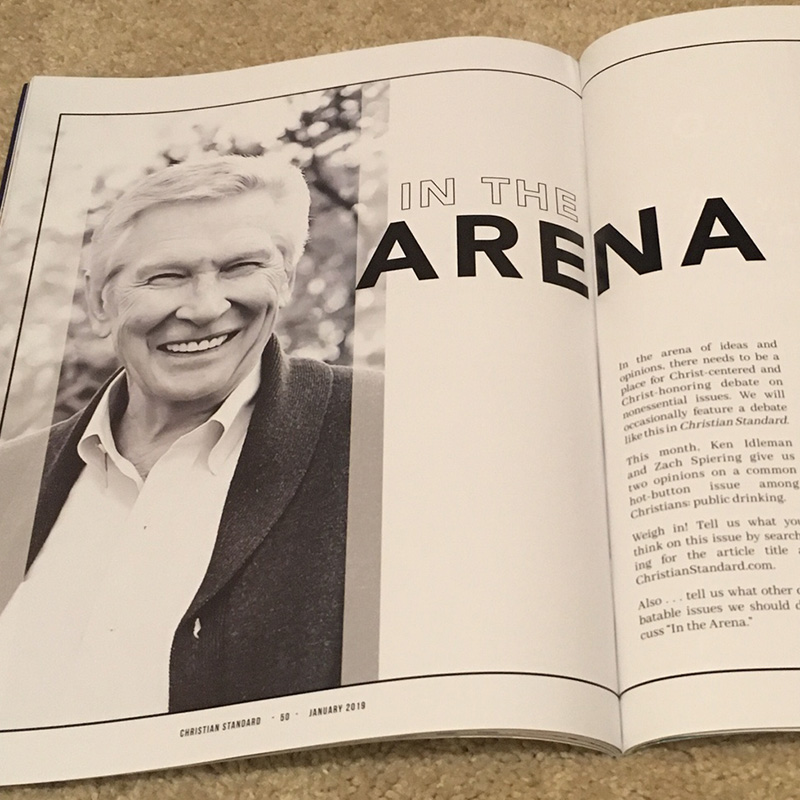 IN THE ARENA: Is It Fitting for Christians to Drink Alcohol in Moderation? (No)
In the Arena
In the arena of ideas and opinions, we offer a place for Christ-centered and Christ-honoring debate on nonessential issues.
This month, Ken Idleman and Zach Spiering give us two opinions on a common hot-button issue among Christians: public drinking.
Tell us what you think on this issue by leaving a comment below. (Also . . . tell us what other debatable issues we should discuss "In the Arena.")
_ _ _
By Ken Idleman
As I address this question, it is day four of the weeklong FBI investigation into the allegations of sexual assault leveled by Christine Blasey Ford against Judge Brett Kavanaugh, President Trump's nominee for a lifetime appointment to the U.S. Supreme Court. A formal hearing featuring testimony from Blasey Ford and Kavanaugh conducted by the Senate Judiciary Committee a week earlier was telecast by major news networks.
The process has been humiliating for both the accuser and the accused, to say the least. It has also codified the political rancor that exists between Republicans and Democrats in our deeply divided nation. But take a moment and walk it all back 36 years. What likely contributed to the events of that night, as alleged by Blasey Ford? The answer is beverage alcohol.
Both parties acknowledge drinking alcohol as teenagers (though Kavanaugh denied ever drinking when he was underage and denied the alleged encounter with Blasey Ford). Two additional women also made sordid accusations against Kavanaugh (which he also denied), saying the alleged events occurred at parties where large amounts of beverage alcohol was consumed. Clearly, drinking is at the center of all of these accusations. And clearly, alcohol, not abstinence, was the common stumbling block for the principal figures in this investigation. 
Watching these proceedings and listening to newscasts caused me to reflect on my own high school years. Beer drinking was deeply ingrained in the teenage culture of our small, rural Illinois communities. German Lutheran farm families had a liberal attitude toward drinking. It was widely accepted. The fact that drinking was unlawful for kids under age 21 was ignored by teens and parents alike. But, I had watched the lives of two of my uncles implode because of alcohol addiction. Then I watched close friends become problem drinkers because of accessibility of beverage alcohol in their homes. I had also watched Red Skelton's humorous television skits that poked fun of drunks, and I decided I wanted no part of it.
Of course, some of my peers marginalized me because of my decision. I had teammates in baseball, basketball, and football who wanted to go out and drink a couple of cases of beer after winning our home games. (And we never lost a home game in basketball or football in three years, so we are talking about a lot of drinking!) I chose never to participate, and so I was judged by some of my friends who were drinkers as "thinking I was better" than them . . . because, you see, the "judging" is not always done by the nondrinkers.
Of course, not everyone who is a drinker becomes an alcoholic or problem drinker. But, it's reasonable to conclude, virtually everyone who becomes addicted to alcohol started by consuming it in moderation.
No one starts out with the desire to become an alcoholic. Most everyone who drinks starts with this defensive attitude: "I'm just a social drinker and there is nothing wrong with it!" "The Bible says moderation in everything!" No one who is just starting to drink says this: "It is my ambition to someday lose my job, my health, my self-respect, my marriage, and my family. Someday I want to be dependent on alcohol to get through my day." And yet, several million people are alcoholics. And why? It is because drinking alcohol is promoted and elevated as a normal and sophisticated activity in daily life. Never mind that it is expensive and potentially enslaving.
People get hooked on American's number-one, best-selling legal drug. And just like all of the illegal drugs, alcohol finds its way quickly into the body, into the bloodstream, and into the brain of the user/abuser. 
One in eight adults, or 12.7 percent of the current American population, are alcoholics . . . up a shocking 49 percent from the first decade of the 2000s. A total of 88,000 people die of alcohol-related causes every year, according to the Washington Post; that is 30,000 more than the total number of Americans who died in the Vietnam War. Alcohol, not abstinence, is a stumbling block for millions.
I was captivated by the testimony of Elizabeth Vargas, former ABC News anchor, in her 2016 book Between Breaths: A Memoir of Panic and Addiction. She wrote,
Today, when I walk down the streets of New York City on a warm evening, passing bars filled with people enjoying glasses of wine, it's a very different experience for me than it once was. I don't look at them and think, "I want one." But I look at them and I think, "I miss that." I miss that time when, you know, I felt so innocent and romantic. But that's just me romanticizing something that turned out to be really monstrous for me.
In a subsequent interview on 20/20, Vargas said,
I started out with just a glass of wine at bedtime to relax and sleep. Then one became two; and two became three. Occasionally I wore knee-high boots so I could stick a bottle of wine in the boot. Nobody looks in the boot. I got to the place that I would give my life for my [two] sons, but I would not give up drinking for my sons.
As father to 3 adult children and grandfather to 11, that last sentence is stunning to me. It illustrates the addictive potential of strong drink. Alcohol, not abstinence, was the stumbling block for Vargas's marriage (which did not survive) and family.
Vargas had turned her life around by 2016, but that was a tragic year for the Rinehart family: Ruth Ann, 74, her son David, 45, and granddaughter Sophie, 17. David was like a third son-in-law to me. He was the outstanding worship pastor at Crossroads Christian Church, Evansville, Indiana, where we were yoked in ministry leadership for a decade.
I got the call on a Sunday morning as I sat in the parking lot of Harborside Christian Church in Safety Harbor, Florida, preparing to go in and preach. It was a gut punch. David, his middle daughter, and his mother were killed in an automobile accident in central Indiana earlier that morning; their disabled car, pulled to the side of the road, was rear-ended by a pickup truck traveling 70 mph driven by a 19-year-old man who had been drinking beer that afternoon and evening on the campus of Indiana University. It was the first, and I hope the last, triple funeral I have conducted. About 4,000 people attended the service to deeply grieve the senseless deaths of three amazing Christian people.
Months later, in a courtroom not far from the accident scene, the young man who drove the truck was sentenced to a lengthy prison term for vehicular homicide. His blood-alcohol level revealed he was driving impaired, and that drinking was the determining factor in the tragedy. So, alcohol, not abstinence, was the stumbling block for the young man who victimized the Rinehart and Crossroads Church families.
Paul wrote in Romans 14,
Therefore, let us [those who choose to drink and those who choose to abstain] stop passing judgment on one another. Instead, make up your mind not to put any stumbling block or obstacle in the way of a brother or sister. . . . It is better not to eat meat [that had been sacrificed to idols . . . nothing wrong with it really] or drink wine or to do anything else that will cause your brother or sister to fall (vv. 13, 21).
With one in eight Americans being alcoholic, and who knows how many problem drinkers out there, can we risk being a stumbling block to them and others by insisting on exercising our Christian liberty to drink in moderation? What if you can handle it and they—members of your own family or someone else's family—cannot? Can you live with the knowledge that you may have even passively contributed to their fall?
As a Christian leader committed to willingly sacrifice my liberty to avoid being a stumbling block, I won't take the chance. The stakes are too high in the lives of real people in this life and real people's souls in the greater life to come. 
Ken Idleman served as the fourth president of Ozark Christian College, Joplin, Missouri, was senior pastor for 10 years at Crossroads Christian Church, a megachurch in Evansville, Indiana, and is presently mentoring pastors as vice president of leadership development with The Solomon Foundation.