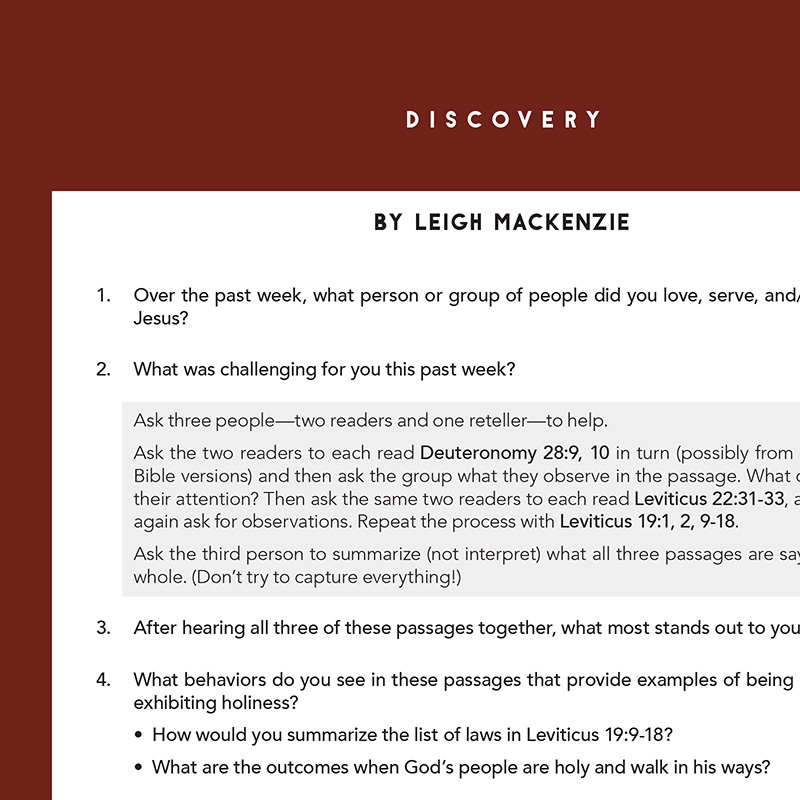 Discovery Questions for May 3, 2020
(These Discovery questions go with the Bible lesson for May 3, 2020: "His Holy Nation." For a detailed explanation of how to use Discovery Bible Study, click here.)
By Leigh Mackenzie
1. Over the past week, what person or group of people did you love, serve, and/or tell about Jesus?
2. What was challenging for you this past week?
Ask three people—two readers and one reteller—to help.
Ask the two readers to each read Deuteronomy 28:9, 10 in turn (possibly from different Bible versions) and then ask the group what they observe in the passage. What captured their attention? Then ask the same two readers to each read Leviticus 22:31-33, and once again ask for observations. Repeat the process with Leviticus 19:1, 2, 9-18.
Ask the third person to summarize (not interpret) what all three passages are saying as a whole. (Don't try to capture everything!)
3. After hearing all three of these passages together, what most stands out to you?
4. What behaviors do you see in these passages that provide examples of being like God and exhibiting holiness?
How would you summarize the list of laws in Leviticus 19:9-18?
What are the outcomes when God's people are holy and walk in his ways?                 
5. What do you learn about God's character from these passages?
6. What do these passages reveal to you about God's design of and expectations for his people?
7. In what ways do you sense God is calling you to obey him and live a holy life this week?
How might you influence or impact the people around you who are still far from God by living a holy life as described in these passages?
8. Based on these passages and our discussion, complete this sentence: This week, I will . . .
9. What challenge will you face this week as you seek to live a godly life?
For next week: Sometime this week, read and reflect on Deuteronomy 4:29-40; 26:17-19; and Leviticus 20:26; 26:12, 13 as we continue to look at how we can be "Wholly His." You can also read next week's supplemental texts and the Study and Application sections as part of your own personal study. (We won't read or discuss extra study materials in our group session next week, but they will help you grow in your own faith.)