[UPDATED AT THE END WITH FUNERAL ARRANGEMENTS AND A LINK TO DR. COTTRELL'S OBITUARY.]
By Michael C. Mack  
On Friday evening, after a long battle with cancer, Jack Cottrell, 84, passed from earth to heaven. Dr. Cottrell was professor of theology at Cincinnati Christian University for 48 years, from September 1967 to December 2015. He earned a BA and a ThB from Cincinnati Christian University, a BA in philosophy from the University of Cincinnati, an MDiv from Westminster Theological Seminary, and a PhD in theology from Princeton Theological Seminary.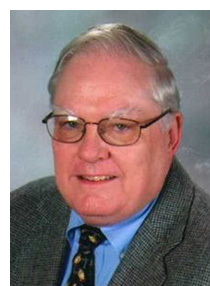 Jack married Barbara in 1958 and they have three children and four grandchildren. He most recently ministered with the First Church of Christ in Greendale, Ind. He resided just outside of Lawrenceburg, Ind.
Throughout his life, Dr. Cottrell enjoyed helping others come to a clearer and more specific understanding of biblical and doctrinal issues. He stated this on his website, but most everyone who ever met him, and those folks who read his books, knew this already.
I spent much of Saturday morning reading the many Facebook posts and comments about Dr. Cottrell's life. (I'm sure many others who had him as a professor, knew him as a ministry partner, and followed him on social media did the same.) In those posts, Dr. Cottrell was described as a great teacher, mentor, loyal co-worker, friend, fount of biblical knowledge, the gold standard for doctrine, man of God, a fierce defender of the faith, and a powerful example of the gospel message lived out to the fullest.
As many others have expressed, Dr. Cottrell's Doctrine of Grace class also changed my life. Most of my classmates some 35 years ago had previously graduated from a Bible college and nearly all had grown up in Christian homes and churches. But not me. I had entered seminary within several months of my baptism, and my biblical understanding was still rather immature. Everything Dr. Cottrell taught was new information to me, and I took copious notes, including lists of words I didn't know, which I wrote in the margins of my notebook.
Each day after class, I'd wait for everyone else to leave, and then I'd take my list—and other questions I had—to Dr. Cottrell, asking him for definitions and explanations. He was incredibly patient with me, and I learned as much about grace from his example as from his teaching of the curriculum.
I believe Matt Proctor, president of Ozark Christian College, summarized Jack Cottrell's life exceedingly well in a Facebook post:
He grounded multiple generations of ministry students in a deep understanding of God's Word, and he modeled for them a commitment to "correctly handle the word of truth" (2 Timothy 2:15). For all his impressive academic degrees, he just kept putting his finger back on the pages of his Bible, and when those words clashed with the world's thinking, he always let the text win. He was a man of the Book, and in their ministries, his thousands of students are now shaping a people of the Book.
I am so grateful I got to be one of those students.
Earlier this year, Dr. Cottrell updated his many Facebook followers on his condition. He wrote,
We must be ready someday to say "Goodbye!" to these bodies, and to wait with Jesus in the angelic heaven for the time when He will give us new, glorified bodies that are forever free from that curse.
Thus when we are facing death in this fallen world, it is OK to pray for healing and extension of life (plan A), but to remember that if God chooses not to answer these prayers, He has a PLAN A+ waiting for us, which is Romans 8:18: "For I consider that the sufferings of this present time are not worthy to be compared with the glory that is to be revealed to us." Thus we are "waiting eagerly for . . . the redemption of our bodies" (v. 23). Hallelujah!
In the coming days, we will mourn with Dr. Cottrell's family and loved ones, even as we celebrate his life. Funeral arrangement information is below. Also watch over the next several days for an article on our website by one of Dr. Cottrell's many good friends. Our January/February print issue, focused on truth, will include a compilation of some of Dr. Cottrell's best Christian Standard articles on that topic.  
UPDATED AT 11 A.M. SEPT. 19: Visitation for Jack Cottrell will be from 5 to 9 p.m. Monday, Sept. 26, at Bright Christian Church (24457 State Line Road, Lawrenceburg, IN). A Celebration of Life service will take place at 11 a.m. Tuesday, Sept. 27, also at Bright Christian, with visitation from 9 a.m. until the time of service.
In lieu of flowers, Dr. Cottrell requested that memorial gifts be made to First Church of Christ (Christian), 421 Ridge Ave., Greendale, IN 47025; Christian Restoration Association, 7133 Central Parke Blvd., Mason, OH 45040; or Literature and Teaching Ministries ("Jack Cottrell projects"), P.O. Box 645, Joplin, MO 64802-7425.
His complete obituary is available at www.fitchdenney.com.
Michael C. Mack is editor of Christian Standard.