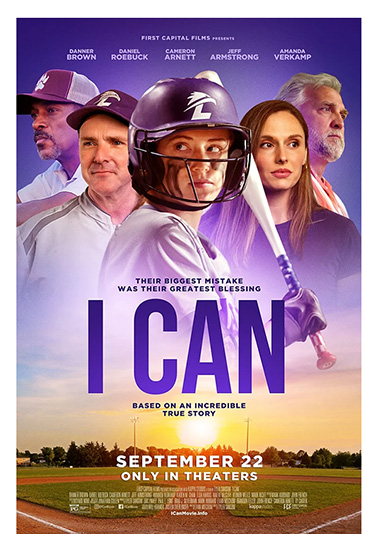 I Can, a movie about Katelyn Pavey, a one-armed athlete who became an All-American softball player at Kentucky Christian University, will premiere in theaters nationwide on Friday. 
Katelyn's home church, First Capital Christian Church in Corydon, Ind., produced the film—its second feature-length project. 
Katelyn was born with a right arm but only part of a left arm. The film dives deeply into the regrets and guilt of Pavey's father, Eric. Katelyn was born out of wedlock, and her father thought for a time that her congenital anomaly was his fault.
It is a redemption story, said Tyler Sansom, the movie's director and lead pastor of FCCC. "God restored what was beyond restoration," he said earlier this year.
Learn more about the film, viewing options, and ministry opportunities at icanmovie.info. Read our article about the I Can movie from earlier this year. Also, read our article about Katelyn from 2022.