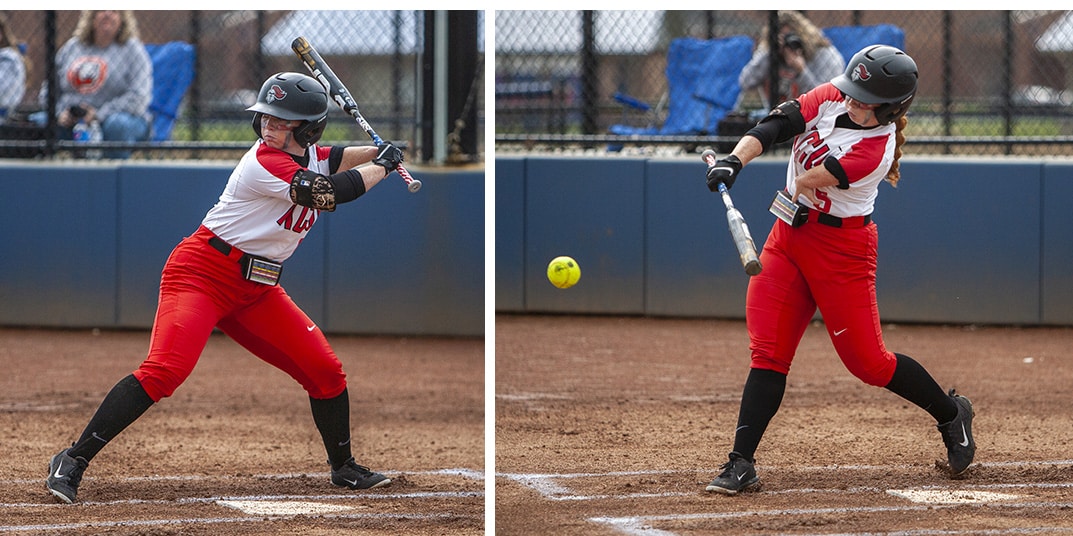 Softball Player Katelyn Pavey Overcomes Life Challenges and Inspires Others
By Jake Sutherlin 
"I get asked a lot if I wish I had two arms."
For much of Katelyn Pavey's life, this is where the conversation starts—she was born with a right arm but just part of a left arm. If she can help it, however, this isn't where the conversation ends.
"I say, no, because I wouldn't be able to touch people's lives or have the opportunity to," the Kentucky Christian University student and 2021 NCCAA Second Team All-American softball player says. "It's how I can witness to others."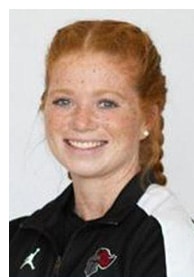 Pavey has grown to see God's strength and provision in her difference. It's been a way to personally experience a God who loves her enough to die for her sins. And it's her life's mission to invite as many people as she can into a relationship with God.
"It's sad how many people don't know Jesus personally," Pavey said.
Her desire is that if her story can bring just one person to Jesus, then she wants the story to be told.
Katelyn's story begins in a broken world. She is the daughter of two redeemed people who conceived her out of wedlock. Her father, Eric, felt that Pavey's congenital anomaly was the result of his sin, a weight they'd have to carry as a family for the rest of their lives. But God has been ever faithful, and Eric has seen his daughter become an amazing ambassador for God's love and forgiveness.
And his daughter's love of softball has been one means through which God has been glorified.
From an early age, Pavey was a dedicated, hardworking, and driven athlete. Her determination was rewarded with statewide softball honors by the time she was a senior at Lanesville (Ind.) High School, and she'd set the goal of playing college ball at a Christian university where she could continue to grow her faith. God again provided a means for that to happen; this time through coach Cory Gardner, first at Cincinnati Christian University (which closed midway through her sophomore year) and now at Kentucky Christian University, where Pavey has played and Gardner has coached since 2020.
RECRUITING
Gardner had heard of Pavey, but their paths never crossed before he started recruiting her.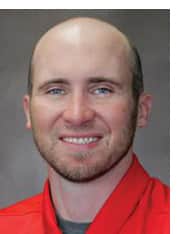 "I was at a camp to watch a couple of girls we were interested in signing," Gardner said. "My goal for the camp was basically to make sure both of them signed for us. While I was watching them, one of my assistants went to watch some of the other drills, and I got a call from her saying, 'You have to come see this girl.'"
Gardner went to watch a routine set of relay throws from a large group of high school players; that's when he saw Katelyn putting her heart and soul into every moment of the drill . . . and doing so with excellence.
"Katelyn was a top five, if not the best, player at the camp," Gardner said.
That sentiment is what has made Gardner and Pavey's relationship so special—Gardner has always just seen her as a softball player; he didn't treat her any differently. Sure, he saw the obvious, but if she could play, she'd play.
This mutual respect and drive to be best has helped the two foster an incredible relationship. It's why she followed him to Kentucky Christian within hours of him being announced as the new coach.
"I don't ever want to play for a different coach," Pavey said.
"Coaches can say something about the impact a player or coach has had on them," said Gardner, "but I can say that I am a better person because of her."
GROWTH AND CHALLENGES
Gardner has witnessed Pavey's growth and resilience firsthand, beginning with her freshman year at CCU.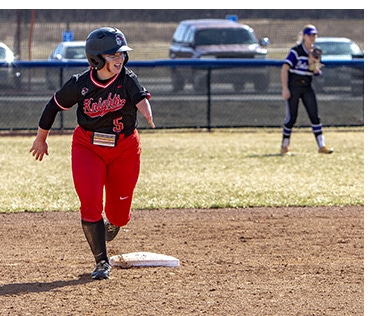 As a high school senior she'd set four goals: earn All-Conference and All-State honors, hit her first home run, and sign to play college ball. She accomplished all four and came into her first year under Gardner with high expectations and excitement . . . and then she tore an ACL.
"I started to question God: Why do bad things happen to good people?" Pavey said.
She slid into depression, unwilling to leave her room or engage with friends. During her sophomore year, this was compounded by the loss of her grandmother, who was a spiritual and personal pillar in Pavey's life.
During those first two years of college, she started to understand that softball had become her idol, taking God's place as the most important thing in her life. Humbled, she was reminded that her life wasn't about her; she'd been given a platform to talk about the identity and victory she had in Jesus, not the identity or success she earned on the softball field.
John 16:33 became a cornerstone for her, a reminder that Christ had already obtained the ultimate victory in her life. And because of that, she has the freedom to try her best, to speak, invest, and to love like Jesus.
I have told you these things, so that in me you may have peace. In this world you will have trouble. But take heart! I have overcome the world (John 16:33).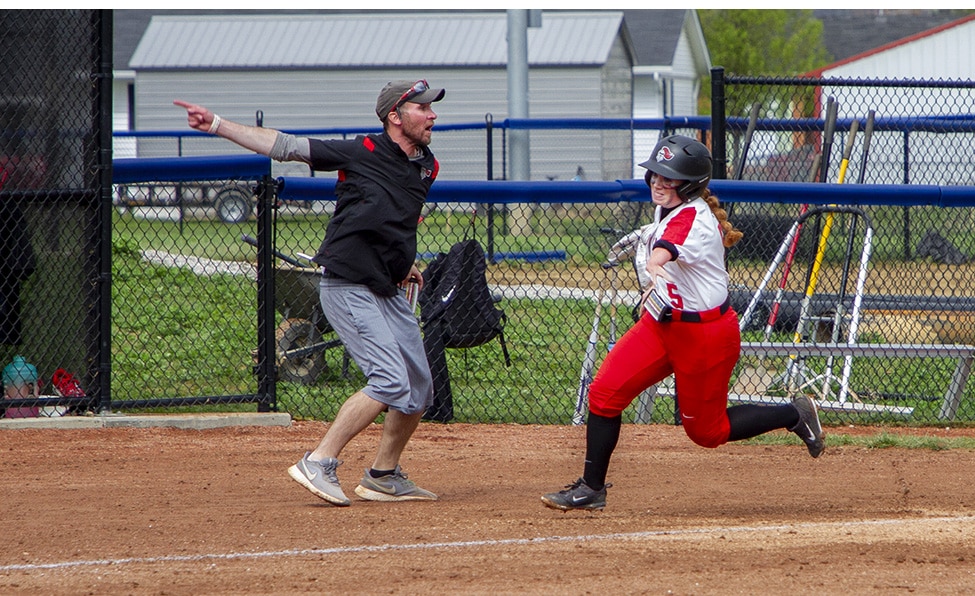 BLOSSOMING
When she arrived at college, Pavey was quiet and reserved, but now—when she's not playing softball or attending class—she travels across the nation speaking to and inspiring people from all walks of life to trust in God even in their darkest moments. She could continue that ministry when her playing career ends, but Pavey still has one more year of eligibility to build on two successful campaigns with the Knights.
During her first season at KCU, Pavey led the team in several offensive categories—including batting average (.406), runs scored (26), and on-base percentage (.500), among others—and was voted an All-American by a national panel of coaches.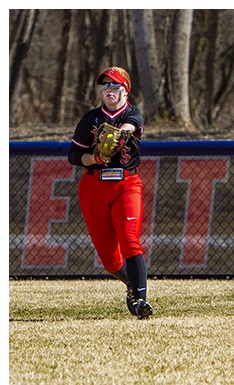 During the season that just ended, Pavey batted .360 as the leadoff hitter and center fielder and was named to the NCCAA All-Mideast Region team. She collected 41 hits (8 of them doubles), 20 walks, scored 29 runs, and stole 13 bases.
Pavey's teammates say she leads by example and is a strong encourager.
Ashton Blackburn just finished her freshman year at KCU, earning Second Team All-American honors as a pitcher. Gardner said Blackburn and Pavey had some great battles at the plate over the course of the year. But when Blackburn wasn't pitching, she would play in the outfield with Pavey, who was always there to offer advice and serve as a calming influence.
"She always has our back and gives everything she has every time she plays," Blackburn said.
And while Pavey helps set the tone for the team athletically, she's always among the first to direct the team to the things that matter most, something for which her former KCU teammate Shaylee Heistad is grateful.
"She'd remind us that we had a gift and a talent to play, but that we played for a higher purpose—to worship God," Heistad said "That can be difficult to remember in softball, especially when you aren't performing very well, but she'd encourage us to take a moment and reset."
Pavey has enjoyed success in the classroom, as well. She has already earned a bachelor's degree in business and is working toward a master's degree in Christian leadership.
But most importantly for Pavey, her life serves as an invitation for people to experience Jesus.
THE BIG SCREEN
About a year ago, Pavey's pastor, Tyler Sansom of First Capital Christian Church in Corydon, Ind., asked her if he could direct a movie about her life. (The church's first feature-length film, A Father's Fight, released last year, encouraged fathers to fight for their families.) Pavey's first thought was "no" to the film. She doesn't want to be put on a pedestal. But, again, she's come to realize her story is not about her. If God can use her story just one more time, then so be it.
The movie, entitled I Can, is in production and should be released this winter.
Pavey is prayerful and confident that God will again be glorified through her story, and she hopes that more people will meet Jesus because of the film.
Jake Sutherlin, who earned a bachelor's degree in journalism from the University of Missouri, works as a youth intern for a church in Mississippi.