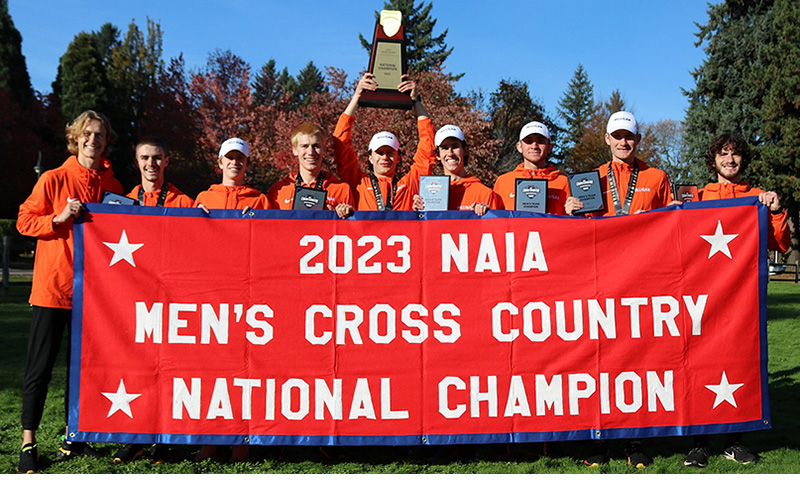 The cross country teams from Milligan University in Tennessee turned in outstanding performances at the NAIA National Championships in Vancouver, Wash., Friday, with the men capturing the national title and the women finishing fourth.
It was the second national title for the Milligan men; as in 2021, the title came at the Fort Vancouver National Historic Championship Course.
A week earlier in cross country competition, Jedidiah Osgood of Ozark Christian College (Joplin, Mo.) won the National Christian College Athletic Association (NCCAA) Division II National Championship race, breaking the tape nearly 40 seconds ahead of the second-place finisher on the 8-kilometer course in Warsaw, Ind.
In recent days and weeks, athletes and teams from several colleges associated with Independent Christian Churches and Churches of Christ turned in notable performances in various sports—including soccer, volleyball, golf, and cross country.
CROSS COUNTRY
The Milligan men's squad had three top-10 finishers and four All-American efforts to narrowly defeat the University of Saint Mary (from Kansas) in the second-closest NAIA national championship finish ever.
"We knew it was going to be a dog fight," said Buffaloes head coach Chris Layne, who added he was "extremely proud" of both the men's and women's squads. Layne was tabbed as the NAIA National Men's Cross Country Coach of the Year for the second time in his career.
The team title in the 8-kilometer race marks Milligan's fourth-straight top-three team finish and fifth-consecutive top-15 showing.
Bryn Woodall, Aaron Jones, and Will Stockley repeated as All-Americans with top-10 individual finishes in the 331-man race. Woodall crossed in sixth in 24:56, Jones was seventh in 24:58, and Stockley placed ninth in 25:03. All three runners ran on the Buffs' 2021 national title team. Freshman Bryson Lewis also earned All-America honors as he finished 30th in 25:31. Other Milligan runners included Zimri Kuhn, Josh Hale, and Alex Brittain. (Milligan's website has more information about the men's championship.)
Three All-American runners paced the Milligan women's cross country team to its fourth-place finish at the same Fort Vancouver Course on Friday.
It marked the sixth top-10 national finish in the last seven seasons and a ninth-straight top-15 national placement. College of Idaho took home the NAIA national championship with four top-10 finishers in the 6-kilometer race.
Caitlin Dominy led the Buffs and collected All-America laurels with a 22:03 effort to finish 14th for the second-straight year. "So happy to see Caitlin jump up there and lead this squad in her last collegiate race," Layne said.
Hannah Brown earned All-America honors in her first season as a Buff. Brown moved up throughout the race to finish 20th in 22:17. Ellen-Mary Kearney repeated as an All-American in 21st place in 22:19. Zanelle Willemse narrowly missed out on All-America status as she finished 42nd in 22:46. Other Milligan runners included Gracie Allen, Patricia Barrera, and Natalie Fellers. All seven Milligan runners finished in the top half of the 333-runner field. (Milligan's website has more information about the women's championship.)
"It was just an outstanding day for cross country," Layne said.
In the NCCAA Men's Division II Cross Country championship on Nov. 10, Jedidiah Osgood (winning with a time of 26:01.9) and Jaxon Harden (eighth, 29:06.0), both of Ozark Christian College, and Lonnie Cooper (ninth, 29:19.4) of Dallas Christian College, were recognized as All Americans.
The Ozark Christian College men's team finished third at the National Championship meet.
OCC's women's team finished fifth at the National Championship meet, held on the same day, also in Warsaw. OCC was paced by overall 11th- and 12th-place finishers Emma-Marie Foster and Natalee Connaster, respectively.
SOCCER
The women's soccer team from Great Lakes Christian College (Lansing, Mich.) made a great run, all the way to the Final Four of the NCCAA Division II National Championship. The Crusaders advanced to the Final Four by defeating Maranatha Baptist University 6-1 earlier this month in the 2023 Midwest Regional Championship in Watertown, Wis.
But in the national semifinal game Friday in Kissimmee, Fla., GLCC lost 4-2 on penalty kicks to Southwestern Adventist University (Keene, Texas), and GLCC then fell 1-0 to Crown College (Saint Bonifacius, Minn.) in the consolation game on Saturday. GLCC's Brianna Hinton and Jessica Heeke were named to the All-Tournament Team.
In NAIA, Hope International University's women's soccer team qualified for postseason action by winning the Golden State Athletic Conference. They entered tournament play with a record of 14-3-2 . . . and they have won their first two games in the tournament.
The Royals defeated Indiana University Kokomo 4-0 on Thursday behind two goals by Ashlyn Edwards. On Saturday, HIU stunned Indiana Wesleyan, 2-1. Both games took place in Marion, Ind.
The Royals now advance to the NAIA Women's National Championships final round for the first time in program history. They will take on Cumberland University (Lebanon, Tenn.) on Nov. 28 at Foley Sports Tourism Championship Stadium in Foley, Ala.
The HIU men's soccer squad also qualified for NAIA postseason play. The Royals stood at 15-3-2 after winning the Golden State Athletic Conference Tournament. But in the Mobile (Ala.) Bracket on Thursday, Louisiana Christian defeated HIU, 3-2.
The men's soccer team from Milligan University was the Appalachian Athletic Conference Regular Season and Tournament Champion, entering the NAIA tournament at 16-2-3. In their inaugural tournament game Saturday, the Buffaloes defeated William Carey University, 2-0. The game was played on WCU's home turf in Hattiesburg, Miss.  
VOLLEYBALL
Manhattan (Kan.) Christian College's squad had an impressive finish as National Runners-Up in the NCCAA Women's Division II Volleyball Championships hosted by Ozark Christian College. The Thunder fell in the championship match Saturday to No. 1-ranked Bob Jones University (Greenville, S.C.), 3-0 (25-21, 25-21, 25-18).
MCC reached the championship by defeating three teams in pool play last week: Faith Baptist Bible College (Ankeny, Iowa), 3-0; Arlington (Texas) Baptist University, 3-2; and Grace Christian University (Grand Rapids, Mich.), 3-0.
Manhattan Christian College's Liv Lubbers was named the tournament's most outstanding player. Joining her on the All-Tournament Team was teammate Hali Bloomdahl. Lubbers and Bloomdahl were also named to the American Volleyball Coaches Association All-America First Team and the NCCAA All-America First Team.
The Thunder's Lauren Sanders was named NCCAA Coach of the Year.
GOLF
Dallas Christian College's Caleb Coffman was the sole representative from Independent Christian Church colleges to compete in the NCCAA Men's Golf Championship, held at the Hammock Beach Open Course in Palm City, Fla. The Crusader finished 32nd with a three-round total of 243 in late October.