By Mark A. Taylor
Have you listened to our monthly online interview program, Beyond the Standard? If not, you"re missing another storehouse of information and help, free from the offices of CHRISTIAN STANDARD.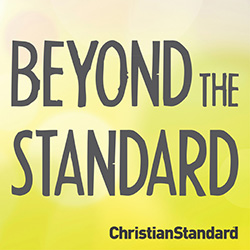 Each month we offer a new interview, and almost every episode is archived for you to hear and share whenever it would help. Almost two years of these hour-long programs are available.
Just go to www.blogtalkradio.com/standardpublishing. First you"ll see an announcement of upcoming broadcasts. For example, later this month we"ll be interviewing noted expert Dr. Mark Laaser for a program titled "Solving Compulsive Sexual Behaviors." Listen live, February 27, 11 a.m. Eastern.
But each month"s new program is just the beginning. Scroll to the bottom of the page to see our "On-Demand Episodes" It"s a long list!
Healthy Church""Nate Bush, Jeff Faull, Joe Putting
Good News for the Poor""Becky Ahlberg, Chris Smith, Aaron Wymer
How Are We Doing with Missions?""Reggie Hundley, Doug Lucas, Tony Twist
IN the Culture, FOR the Culture""Joe Boyd, Rich Gorman
How We"re Changing Our City""Glen Elliott, David Drum
Christian Colleges, the Challenges and the Opportunities""D. Clay Perkins, Michael Sweeney, Jon Weatherly
"Ministry Today" with Eddie Lowen""Eddie Lowen
Apologetics Is Different Now""Ben Cachiaras, Richard Knopp, Casey Tygrett
Megachurches, Mega Ministry""Dave Stone, Don Wilson, Jud Wilhite
How We Worship, Why We Pray""David Butts, Ken Read
Not the Only Christians""Paul Blowers, Rick Grover, Bob Russell
Teaching the Bible in a Biblically Ignorant Age""James Estep, Teresa Welch
Satisfaction for Sale""Ryan Connor, Jay Link, Janet McMahon
Problems and Opportunities in Cross-Cultural Missions""Gayla Congdon, Michael Sweeney, Doug Priest
Reaching the City, Serving the City""Vince Antonucci, Kevin Haah, Tammy Melchien
Church Planting: the Small Church/Megachurch Stand-off""Aaron Brockett, Steve Wyatt
What About Marriage?""Arron Chambers, Randy Gariss, Jim Street
An Hour with Roy Lawson""LeRoy Lawson
Why Missional Matters""Jon Ferguson, Greg Nettle, Jon Weece
Integrity in a Shifting Culture""Tim Harlow, Brian Mavis, George Ross
Let us know which of these programs has helped you the most and which Christian Standard writers you"d like to hear us interview. Beyond the Standard will continue as long as you are listening!