By Mark A. Taylor
Why are Evangelicals the only growing Christian group in America?
The fact of dramatic decline among mainline Protestants and Catholic churches in the U.S. is certain, documented by a Pew research report released last month. But answers have varied among those seeking to explain why Evangelicals are holding their own. I asked about that when I spoke with three ministers of growing churches in last month"s episode of our monthly online interview program, Beyond the Standard.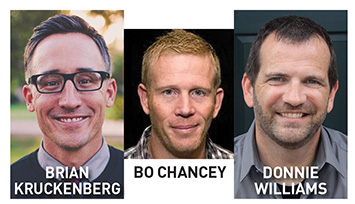 These fellows""Brian Kruckenberg, lead pastor with New City Church in Phoenix, Arizona; Bo Chancey, senior pastor with Manchester (NH) Christian Church; and Donnie Williams, lead pastor with Lifepointe Church in Raleigh, North Carolina""offered great insight into church growth, evangelism, and church leadership. And each of them gave answers I hadn"t heard before to the question that heads this post.
A lack of institutionalism""Kruckenberg cited a "general, growing distrust for institutions" in our country. He believes this, coupled with widely publicized scandals (especially in the Catholic church), has led many to look elsewhere in their search for God. Many of these seekers have discovered Evangelical churches, especially nondenominational churches.
Kruckenberg also mentioned a tendency among some churches not to "speak the language" of the contemporary culture, posing questions many are not asking and following traditions that many can"t understand.
A third factor, according to Kruckenberg, is the barriers to entering professional ministry experienced by some, especially in highly bureaucratic denominations. As a result, they choose freer, Evangelical churches as places to serve.
An ability to change""Chancey added observations about institutionalism when he talked about change. He said change, and the possible rate of change, "is very crucial in the world we live in." He believes Evangelical churches can change much quicker than some denominational churches whose org charts may not allow that flexibility.
A call for discipleship""Williams spoke of discipleship and echoed what several writers have said: some nominal Christians have left Evangelical churches because the push for discipleship in those churches has nudged them out. In other words, Christians formerly in name only are admitting now they"re not Christians at all.
But Williams sees this call for discipleship as a factor that has built the church, in numbers as well as depth. When we call people to live like Christ, he said, "this has a real appeal to a skeptical generation."
And with that answer, Williams sets the stage for any productive conversation among Evangelicals about why they"re growing. The point isn"t to focus on others" failings as much as it is to identify and amplify our own effective tactics. And it seems certain any church could improve its effectiveness by thinking about the factors these three leaders have suggested.
Hear the hour-long interview with Kruckenberg, Williams, and Chancey here.
Listen to the next Beyond the Standard episode, "Pursuing the Radical Center," with guest Ben Cachiaras, Thursday, June 18, at 11 a.m.