By Mark A. Taylor
It is easy, too easy for me to make my identity all about me. Can you relate?
For example, many of us take identity from our family relationships. (Whose son are you? Which child is yours?)
Or we boost identity with what we can afford to buy or experience. (Is this your new car? You live in that neighborhood? Your cruise lasted how long?)
We claim identity from the title behind our names. (Instructor or professor or dean? Manager or director or vice president?)
But when life changes""and life always changes""when the job ends or the spouse dies or we must start over in a new neighborhood or local congregation, we may feel upended by the challenge of claiming a new identity or refurbishing a former one.
I"ve been thinking about this since the North American Christian Convention, where several speakers challenged my tendency to find identity in the wrong place.
It began with my interview with Caleb Kaltenbach, who cut through some of the current angst and arguments about gay marriage to say he doesn"t believe behavior should be our focus. We must first decide about our identity, he told me. Once we"ve claimed our identity in Jesus, day-to-day decisions and lifetime choices become more certain.
But not easy. If it were easy to keep the focus on Christ and off ourselves, we wouldn"t need challenges like the one offered by Jodi Hickerson.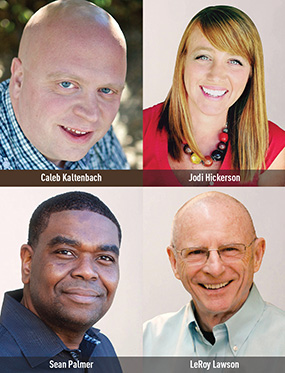 In perhaps the most compelling of this year"s NACC messages, Hickerson reminded us that the treasure we offer the world is all from God. We hold it in "fragile and frail" "jars of clay" (2 Corinthians 4:7).
"We"re not that extraordinary," she said. "The treasure is. . . . I don"t want to offer people the best that I can do. I want to offer them Jesus. Image management is an exhausting idol. My personal awe and wonder for the story of Jesus is my best asset."
Sean Palmer echoed her theme in the convention"s closing sermon. "If you want to heal a desperate world, all you need is good news," he said.
"Everything today is about technique and strategy," he added. "But the New Testament is not full of tips about Jesus, it"s about news, and that news changes everything. . . . All of our speaking will change some things, but only good news changes everything."
Between these two sermons that week was the quiet and moving testimony from LeRoy Lawson who preached from Psalm 71, which he called an old man"s conversation with God. Lawson, who said he"s been preaching for more than six decades, is convicted by the psalmist"s prayer to God: "I will proclaim your righteous deeds, yours alone" (v. 16).
"I talk too much about myself, my righteous deeds," Lawson confessed. "And there"s self-deception in that, as if everything has depended on me and my abilities. The more I focus on me, the less room there is for you, God."
As I wrote when we first posted that video interview with Caleb Kaltenbach, this refined focus""taking our eyes off ourselves, concentrating on Jesus and not our own frantic agendas""has the potential to change every Christian and energize every ministry.
And as I reflect on the witness of these four NACC speakers, I realize what a gift that energy can be for me.