By Dave Stone
It"s the right place and the right time for all of us to discover "A Better Story."
Several years ago the North American Christian Convention called to ask me a two-part question: "Would you be willing to serve as the president in 2016 AND would you be willing to have the conference in California (where it hasn"t been in 24 years)?"
Before I answered, I asked for some time to pray about it and talk with various pastors in the Southern California area.
The next couple of months became a time of incredible discovery. I heard story after story of how God was moving in a variety of churches and ministries along the West Coast. There were stories of church plants, large churches, and small ones that were experiencing dynamic growth""even accounts of older established churches infused with new life in recent years. I found ethnically diverse churches like I"d never seen before and ministries reaching unchurched college-age students by the hundreds.
Each conversation built my anticipation, leading me to give an emphatic "Yes" to help lead the conference.
Location, Location, Location
Much has changed since the NACC"s last visit to Anaheim. Back in 1992, California had four Christian churches averaging more than 1,000. Today there are 12. Anaheim is the only place in the world where you can be within 70 miles of five churches in our fellowship each averaging more than 5,000 people in weekend attendance.
How can those of us from other locales waste this rare opportunity to rub elbows with these thriving churches and the people who are a part of these bodies of Christ? It"s just amazing to see how God is blessing these ministries and using them on the front lines of ministry.
This will be a unique year. The NACC will be in an area where it doesn"t have name recognition among the area"s church members. While that poses some challenges, we believe God is turning this into a positive! The synergy happening among the churches in Southern California is rippling throughout the entire state. In Nevada and Arizona, interest has grown into involvement and investment.
The Anaheim Convention Center will be one of the most beautiful venues to ever host the NACC. The nearby hotels offer some of the lowest costs we"ve seen for rooms and housing. Being from the Ohio Valley, I"m especially excited that Anaheim is much less humid than our typical July locations! (I won"t need to bring as many shirts!)
Younger Than Ever, Thanks to CIY
We are happy that for the first time ever, middle and high school students will be able to experience a full Christ In Youth MOVE conference at the NACC! No one does youth programming better than CIY. NO ONE!
Youth group participation will begin on Monday night, July 11. Teens who arrive at the NACC with their parents can join in the fun on Tuesday night and benefit from every facet of the MOVE conference. CIY has generously discounted the price to $40 for those whose parents have registered for the NACC. (Don"t delay; register at gotonacc.org while spaces are available.) Those students will get to be a part of a group and have leaders from Hope International University, Pepperdine, or William Jessup University.
The kingdom-minded partnership the NACC has formed with CIY will breathe life and energy into our time together, making it the youngest NACC we"ve ever experienced. Youth are not the church of tomorrow""they are the church of today. You should come to Anaheim and bring your teens.
Theme
The conference theme is "A Better Story." We chose it because we"re meeting in the area where the media and entertainment industry create stories for billions of people around the world. We are literally across the street from Disneyland, and no one tells a better story than Disney. Well, I guess there"s One who does.
In our main sessions and workshops we will walk through the Gospel of John and see how Jesus has a better story for everyone he encounters.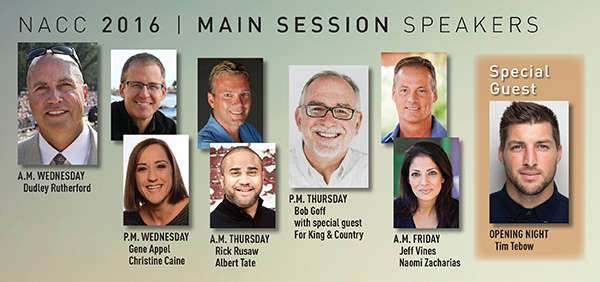 Program
I will speak on Tuesday, the first night of the convention, and I"m excited to have Tim Tebow joining me as special guest.
As quarterback of the Florida Gators, Tim won two National Championships (2007, 2009). He won the Heisman Trophy as college football"s most outstanding player in 2007. He also played three seasons in the National Football League.
More importantly, Tim is one of the most respected Christian voices today. His testimony and convictions on and off the field have been a shining light in an otherwise dark world. Through his foundation, Tim is reflecting Jesus through a variety of ministries.
Tim"s testimony of why he is convinced the Lord has a better story for everyone will be a great way to kick off a convention focused on that theme. And it will also be a great opportunity to see and hear from a young man who is using his platform to love and serve others.
For the balance of the week, some of the most respected names in our brotherhood will be preaching; people like Dudley Rutherford, Rick Rusaw, Gene Appel, and Jeff Vines. And my friend Kyle Idleman, author of Not a Fan, will be teaching the morning Bible study each day.
In addition, we"ve invited a lineup of exceptional communicators. Ben Merold will be speaking at the Senior Adult Luncheon. The challenging and energetic Christine Caine will share with us on Wednesday. On Thursday, the evening program will be a unity service with more than 1,000 students from the CIY conference joining us to hear America"s favorite storyteller, Bob Goff, the author of Love Does. Not only will Grammy Award-winning For King & Country lead worship in that service, they will perform a full concert as well.
On Friday we will interview Naomi Zacharias, whose passion for rescuing women from trafficking and defending God"s Word are unequalled.
But that"s not all. Trust me, you won"t want to miss this! The NACC website will have more news on workshop leaders and special guests. You really should come to Anaheim.
Special Features
Before the NACC program officially kicks off Tuesday evening, there will be a couple of preconferences. There"s an International Conference On Missions event to mobilize a missions mind-set among our fellowship""it goes from Monday night through Tuesday afternoon. And for the second straight year, there will be an event for young Christian leaders under the age of 40. This year we"re calling it "Velocity," and Jud Wilhite will lead it Tuesday. What a great way to start the conference!
Make Some Memories
Since the NACC will be in a new locale, attendees will have the opportunity to visit churches new to them on the weekends before and after our gathering. And, of course, there are plenty of places for families to explore: Knott"s Berry Farm, Disneyland, Hollywood, California beaches, some of the best college campuses in the country""the possibilities are endless. It"s time for your family to experience the beauty and excitement of California and create memories that will last a lifetime. You should come.
This could be a great way for couples in ministry to be refreshed by getting out of their region and seeing what God is doing elsewhere. Over the years, many have used the NACC as a "family" reunion and an opportunity to network with old friends while making some new ones.
It"s Time
You may have seen the recent motion picture Woodlawn. There"s a scene in the movie where the famous football coach Bear Bryant is trying to recruit star high school running back Tony Nathan to play at the University of Alabama. The African-American athlete asks the popular coach, "How many black players do you have playing for you?"
Coach Bryant replies, "Not enough."
Tony digs deeper and asks, "Why do you see that changing?"
And the Bear sets down his iced tea, leans forward and looks Tony squarely in the eyes and says, "Because it"s time."
When I"m asked, "Why is the NACC returning to the West Coast?" my response is always the same""because it"s time. Besides, why should the rest of the country have all the fun? It"s time for leaders to come to California. It"s time for their members to experience the NACC. It"s time for all of us to enjoy meeting some of our extended family members we rarely get to see or know.
God is on the move, and Christian leaders from other parts of the country need to hear their stories and experience the vibrant and strong independent Christian churches of California. And of equal importance, those West Coast leaders and members need to interact with and learn from church leaders from the rest of the continent. You"ll be able to bring back some great ideas for you ministry.
Year after year, the NACC has a way of encouraging discouraged ministers, strengthening old friendships, and nurturing new ones. This year"s setting is a place where you and your family can be refreshed and inspired. So I challenge you to make some memories and join us in Anaheim, July 12-15.
God isn"t through with your story. In fact, next summer in Anaheim he may even reveal to you a better one than you could ever imagine.
You should come, because it"s time.
Dave Stone serves as senior pastor with Southeast Christian Church, Louisville, Kentucky. He also serves as president of the 2016 North American Christian Convention.