By Kelly Carr
I was in the throes of my job editing The Lookout. The weekly nonstop pace provided a rhythm to my work, yet by the spring of 2016, two and a half years in, my freshness was waning""I just hadn"t realized it yet. Around that time, I was invited to attend the Catalyst leadership conference and interview some of the featured speakers for The Lookout. Although I intended solely to mine material for the magazine, I unexpectedly unearthed something from the sessions""rejuvenation in my own leadership.
GROWTH OPPORTUNITIES
After my positive experience last year, I recently attended Catalyst again when it returned to my backyard. I had doubted the leadership benefits of the conference that first year, but this year I attended with anticipation. I saw many Restoration Movement ministers there as well. Based on discussions with those ministers and my own experiences, I see two major benefits for leaders to step outside their regular schedules, individually or as a team, and participate in an event designed to activate leadership growth.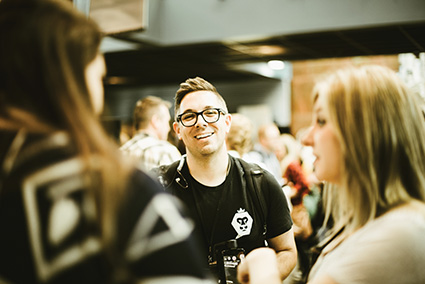 1. Connections
Several Christian church ministers said a benefit of attending Catalyst was making connections with other leaders there. One youth minister told me he missed several conference sessions that day because he was engaged in valuable conversations. He said these conversations are now turning into new outreach opportunities to minister to the families in his community""and these opportunities directly stemmed from the connections he formed that day at the conference.

But the connections aren"t always directed outward. I encountered entire church teams who attended Catalyst together. As you probably know, gathering a team outside of the workplace can have enormous unifying benefits. While this can happen in a variety of settings, a conference can simultaneously bond leaders and stimulate leadership development.
Several years ago, a local church invited the women of our church to gather for a simulcast of the IF:Gathering women"s conference. I never imagined how deeply we elders" wives and small-group leaders would interact in just one evening in a new setting""the challenging messages and discussion times created a candid openness with one another, bringing about stronger camaraderie.
2. Professional development
Our culture tends to keep pushing forward without a break, encouraging leaders to remain on the go to be the best. But if there"s no downtime in ministry, no chance out of the usual routine to reevaluate where one is going, a leader can stop innovating or burn out. You may not even realize your leadership has hit a lull in some aspect. Or perhaps you need to hear God"s urging in a different setting to encourage you to move forward. Placing yourself among other leaders can reenergize your vision.

Don"t forget that your team needs a creative spark as well. Whether you oversee full-time staff or a team of volunteers, they work hard to develop and execute ministry plans; let"s not overlook their need to be sharpened. We ask a lot out of our church leaders, and everyone benefits from new wind in their sails. Strategically incorporating times of professional development for everyone who ministers in church, either
individually or together as a team, will benefit both them and the congregation in the long run.
Attending a conference may be old hat to you, but to your support crew it might mean more than you know. One local Christian church friend I saw at Catalyst excitedly told me that at the last minute he got to attend the conference with his church staff. He is a volunteer with the church, and he was asked to attend when a paid staff member could not. He was thrilled with the opportunity.
DIFFERENT VIEWPOINTS
At one point during Catalyst, I looked around and wondered: What would the early church think about all the bells and whistles at this gathering of Christian leaders? Yet I recognize that large gatherings of different perspectives produced transformation in biblical history. Whether it was Nehemiah"s call to repentance as folks from all walks of life stood and listened to God"s Word being read or Peter addressing the diverse crowd on Pentecost""God moves when a variety of people are together, spurring one another on toward love and good deeds. 

I know some of the same ministers I saw at Catalyst will also attend the NACC this summer. So why bother attending a conference that"s outside our brotherhood?
1. We need to be exposed to different viewpoints.
Hearing thoughts that are different from our own challenges us to firm up our approach to leadership. We might connect with some denominational leaders, while others might rub us the wrong way. Either way, we are being forced to consider how we are thinking and growing as a spiritual leader. As our world changes around us, our leadership cannot remain stagnant. If we hear only what our itching ears want to hear, how will we continue to navigate the ever-morphing thought culture and reach more people with the gospel?

We may be surprised at what God teaches us through different mouthpieces. Knowing that the same Spirit who lives in us also lives in them, we must trust that we can gain wisdom from his children from different church backgrounds.
I may stubbornly ignore a message God has been trying to communicate to me through the familiar voices of family and friends, but suddenly a leader onstage, someone outside my normal realm, captures my attention by saying the same thing. Sure, I didn"t agree with everything Dave Ramsey or Donald Miller said, but I gained by hearing each of them speak because they are in a world I don"t experience. I never knew Margaret Feinberg, Eugene Cho, Jenny Yang, or Trip Lee before I attended Catalyst, yet
by hearing about their ministries, I have found new avenues to take the people I lead.
I"ve seen this exposure to different ideas occur with our tribe as well. Our church attracts members who did not grow up in the Restoration Movement. The last two times the NACC has been in Cincinnati, I watched these members attend and hear leaders from our brotherhood they never knew before. We had stimulating conversations afterward as they took in messages by Dudley Rutherford and Jodi Hickerson and thought through nuances of the faith previously unexplored.
2. We need to work together.
No matter how powerfully God moves through our particular congregation, we cannot reach every person in our community. I don"t think we"re supposed to. God has equipped and called all Christians to serve his kingdom by sharing the good news. Many of those Christians attend churches up the street that don"t look like us. 

And that"s OK.
When we attend a conference outside of the Christian churches and churches of Christ, we are given a window into other types of ministry. For years, a lead minister I know has encouraged his executive minister to attend a conference with him. The executive minister didn"t see the value and put his foot down. Finally, someone donated money so these two ministers and their wives could travel to Atlanta and attend the Drive Conference. There they learned from North Point Community Church, a church outside the Restoration Movement. When he got home, the executive minister e-mailed the lead pastor: "I"m so glad you pushed me to go. I have new ideas and new energy for our congregation. I wish I would have listened to you years ago."
New points of view inform our understanding of what is happening in our own neighborhoods, hopefully inspiring us to bring about more facilitation between churches who are serving the same God in the same neck of the woods. One of the Catalyst speakers this year is on staff at a church up the street from our own congregation. I spoke with her to learn what her church is doing to meet the needs of our changing neighborhood. I was uplifted by their work and now hope to make plans to connect for a church event in the future.
I can be skeptical of trends and gatherings, but I"m thankful that unanticipated invitations placed me in a position where God rejuvenated the passion and direction of my leadership. I hope the same will happen for you.
Kelly Carr is the former editor of The Lookout and a founding member of Echo Church in Cincinnati, Ohio.