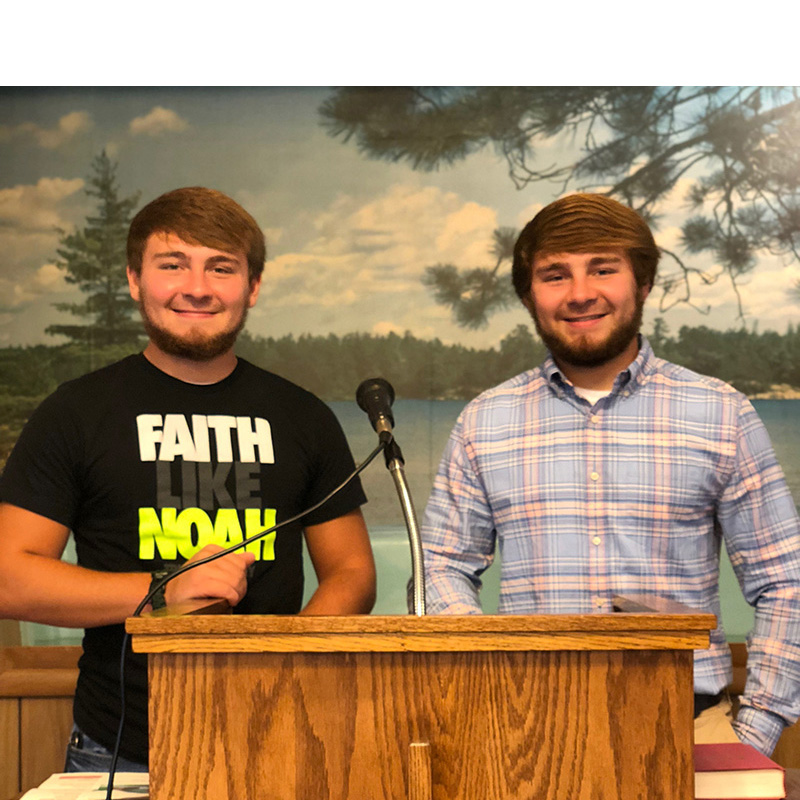 6 Students Answer Call, Share Preaching Duties at Church
By Jim Nieman
High school seniors who attend Peterstown (W.Va.) Christian Church didn't hesitate when asked if they would be willing to fill the pulpit at a nearby church. Of course they would.
And so, since the beginning of the year, these five young men, plus another who is already attending college, have been serving in a preaching rotation at the Church of Christ at Lerona (W.Va.).
"I have a fantastic group of teenagers," says Don Henegar, who has taught the high school Sunday school class most of the 16 years he has served as evangelist with the Peterstown church. "But I told them, if you're going to do it, you need to do your best because you're doing it for the Lord."
"He really loves us and he's always cared for us, and he's pushed us, as well," agrees Kameron Hall, 20, the oldest of the group of young preachers. "He's given us opportunities." (Hall is studying electrical engineering and engineering management at Bluefield [W.Va.] State College.)
Henegar had been contacted by Brenda Lilly, secretary/treasurer with the Lorena church, whose preacher was leaving at the end of last year. Lilly was aware several young men at Peterstown took turns preaching on Youth Night, the last Sunday of every month, and so she called to ask about their interest in preaching every Sunday morning.
Arrangements were made, and the young men have been preaching the Word at Lerona weekly since the beginning of this year, Lilly says.
"We're just overwhelmed with their enthusiasm and confidence," Lilly says. "It has been such a blessing for us and so rewarding for them, and they are just so appreciative of the opportunity."
The church at Lorena is small, averaging about 10 folks, and most folks are older, Lilly said. The church has been thankful for the young men's efforts, and, of course, pays them.
"Every time we're there, they always thank us and say they're praying for us," Hall says. "They encourage us."
"You can see the improvement," Lilly says. "They're more confident in the way they speak. And they love Don—the kids call him 'Bebo.' They have done an excellent job, [and] Donald Henegar has done an excellent job teaching them."
"They do their sermons themselves," Henegar says. "I give guidance when they ask me for it. They're getting more comfortable. In fact, they're getting really good at it."
Hall, the oldest of the rotating preachers, delivered his first sermon, on a Sunday night, when he was 13.
"I think the first time I preached I practiced at home and it was going to be 20 minutes," Hall says. "Then when I got up in front of the church I was done in 5 minutes." He said he now preaches about 25 to 30 minutes and has occasionally filled in for Henegar at the Peterstown church on Sunday morning.
The once-a-month Youth Night service at Peterstown is for the entire church; it's been going on for two years. Those whom Henegar teaches—a total of about 17 teens—take turns serving in various roles: leading worship, praying, serving the Lord's Supper and collecting offering, bringing special music, delivering the Communion meditation, and preaching.
The other five boys in the preaching rotation for both PCC Youth Night and Sunday morning services at Lerona—Bryce Dickerson, twins Isaac McKlarney and Ethan McKlarney (pictured at top, left to right), Brayton Reed, and Austin Toney—graduated from James Monroe High School this spring.
The boys' family members often accompany them when they preach at Lerona, about 40 minutes away, and that's been good for the smaller church's attendance.
"We've even found that some of the boys' families will come and hear them preach who might not otherwise come to church," Henegar says.
When Bryce Dickerson preaches at Lerona, it isn't unusual for him to play his guitar, his girlfriend to sing a special, and his mother to play the piano, Lilly says. Dickerson's late grandfather had preached at Peterstown Christian Church.
All five of the most recent high school graduates are planning to attend college this fall, but none is planning a career in ministry—at least not yet. Only two of the teens—Ethan McKlarney and Austin Toney—will be leaving the area (both will be heading to West Virginia University in Morgantown).
"We might lose a couple of them," Lilly says, "but hopefully four of them will continue to preach for us."
Jim Nieman serves as managing editor of Christian Standard.