By Mark A. Taylor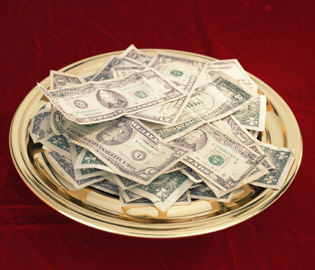 David Campbell and Robert Putnam got it right when they commented on the generosity of Evangelical churches. "Local congregations are often on the front lines of providing charitable services to the poor and needy through food pantries, soup kitchens, and shelters," they wrote in the December 10 Wall Street Journal. "Many congregations also sponsor missionaries overseas."
A visit to the National Missionary Convention underscores the truth of their conclusion, especially among Christian churches and churches of Christ. This week"s NMC review article mentions that at least 300 missionaries and other ministries brought displays to the convention this November in Lexington. A little math and educated guessing indicates how much our congregations have invested outside of themselves.
Suppose each of these 300 exhibitors represents a ministry that receives $100,000 in support from our churches. That would equal $30 million in giving.
But that figure, as impressive as it seems, is low. Admittedly, some of these ministries have annual budgets well below $100,000 (and a few of these exhibits were sellers of products, not ministries receiving missions gifts). But a fair number of the NMC exhibitors""plus ministries among us not represented at the convention""operate with 10 or 30 or 40 times that amount every year. It"s not unreasonable to estimate that Christian churches and churches of Christ annually give at least $50 million to missions and other parachurch work.
Many of these ministries report lower giving in these times of economic stress. Campbell and Putnam quote a report from the Chronicle of Philanthropy stating that charities in America experienced an 11 percent drop in contributions in the past year. But, surprisingly, giving to "religious groups dropped by only 0.1 percent from 2007 to 2009." Another interesting insight: "the most religious Americans actually give more money to secular causes than do secular Americans."
Obviously religious Americans, including members of Christian churches and churches of Christ, have discovered the truth in what Jesus said: "It is more blessed to give than to receive" (Acts 20:35). But these givers are not the only ones to be blessed. As missionaries at the NMC would testify, gifts from Americans in our fellowship are touching many thousands of lives around the world.
IF YOUR CHURCH WAS LISTED in one of our special size-focused issues last year (Megachurches: average worship attendance at 1,000 or more), (Large churches: 500-999), or Medium churches (250-499), we"ll send you information about reporting your numbers again this year.
If your church falls in one of the above categories but you were not included last year, please e-mail us today ([email protected]), and we"ll include you in the list for next year.