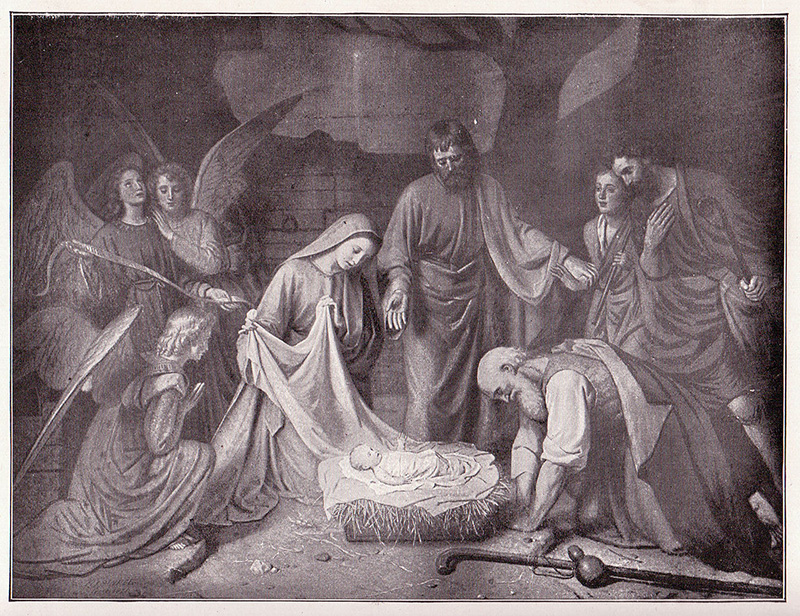 (Christian Standard featured poetry for many years. This Christmas Day we share three poems by Marie Radcliffe Butler. All of these poems appeared at the top left column of the front page of the December 22, 1877, issue of the magazine. Fun fact: Butler's poem "The Christian Standard — on the Field of Armageddon" was in the very first issue of Christian Standard, April 7, 1866, and occupied that same top-left position.)
_ _ _
(Written for the Christian Standard.)
CHRISTMAS POEMS.
_ _ _
MARIE RADCLIFFE BUTLER.
_ _ _
WHEN SHILOH CAME. (Luke i. 7.)
A light in the darkness—a wonderful thing—
A babe in the manger, the heir of a king.
From the palace of God came a guest in the night
To a manger and darkness, and sorrow and blight.
The seed of a woman the brightest and best,
The blossom of ages, the promise of rest.
_ _ _
THE ANGELS' SONG. (Luke ii. 13, 14.)
Down the shining ranks of angels
Bursts an anthem loud and long:
Christ is born, and love eternal
Melteth into joy and song.
CHORUS.
Hark! the angels sing together
Songs that echo on forever;
Still the sweet and blissful story,
Lord of love and life and glory.
Since the morning stars together
Sang the anthem of their birth.
Only once the songs in heaven
Have come floating down to earth.
Chorus: Hark, etc.
Then they sang a world created —
Now a world redeemed by love:
Glory unto God the highest,
Peace on earth, good will and love.
Chorus: Hark, etc.
_ _ _
THE WISE MEN'S SONG OF WORSHIP. (Matt. ii. 2.)
Led by the Star of Bethlehem,
Before Thy feet we bow;
We knew Thee as the Lord of Hosts,
As Love we know Thee now.
Through all Thy prophets, Lord, we trace
Thy wondrous truth and power;
Thou art the Shiloh of our race,
The One whom we adore.
Thou shalt redeem our race from death;
Thy triumphs who can tell?
Sent by the Lord Omnipotent —
The Christ of Israel.
O Royal Child of earth, to Thee
Our grateful praise we bring;
Thou art the end of prophecy
Our Prophet, Priest, and King.
_ _ _
MERRY CHRISTMAS!