This biographical sketch of Dr. Robert Richardson (1806-76)—compiler of the "Memoirs of Alexander Campbell," among other contributions during the first century of the Restoration Movement—will serve as the May installment of our monthly series of excerpts from Christian Standard, circa 1909. In that year, the magazine devoted one issue each month to articles of particular interest to our movement.
We'll change it up this month by also providing an excerpt from a second article about Richardson, the latter from 1910.
_ _ _
Dr. Robert Richardson
By M. M. Davis
(May 8, 1909; p. 9)
Dr. Robert Richardson, the "Historian of the Reformation," was one of the strongest and most useful men of his day, and no series of biographical sketches of the early heroes of the Restoration movement would be complete without his.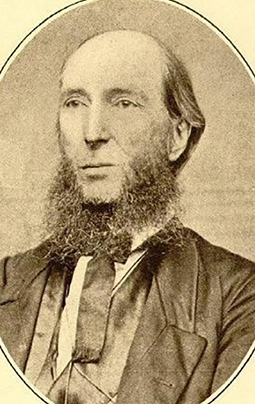 When Walter Scott, the young teacher, first came to Pittsburg, Pa., he found a fast friend in Robert Richardson's father, "who formed quite an attachment to the young Scotchman, who seemed to combine the freshness, simplicity and enthusiasm of a child with the accomplishments of a scholar." Robert was then a boy of thirteen years, and had been a pupil of Thomas Campbell; he was placed under the care of Mr. Scott. The new teacher not only aroused and directed the best powers of the boy, but he so won his affections that all through life their devotion for each other was like that of Jonathan and David. Mr. Scott was a great lover of the Bible, and the Greek New Testament was a favorite classbook in his school. In this way young Richardson, while in his teens, became familiar with the original sources of Bible knowledge. It is not strange, therefore, that though reared an Episcopalian, this young man, after Scott had become a famous evangelist on the Western Reserve, traveled 120 miles to New Lisbon to tell him that he had decided to stand with him in the Christ, and wanted to be baptized by him. After the most cordial greeting, Scott turned aside to William Hayden and said, "Oh that the Lord would give us that young man!" for he had not yet made known his mission. But soon after, in the Cuyahoga, with others, he was buried with his Lord in baptism. From this hour to the close of a long life the young physician gave himself unreservedly to the cause of Christ.
Dr. Richardson was born with a fine brain, and both the father and son did all in their power to cultivate it. His education was liberal and symmetrical. Perhaps we have never had among us a man of superior literary tastes and culture. He was specially fond of the classical languages and the natural sciences. He filled the chair of chemistry in Bethany College for nineteen years; and his voluminous writings have won for him a high place in the literary world. His "Principles of the Reformation" is one of the best brief statements of New Testament Christianity ever written; and his "Memoirs of A. Campbell," two large volumes of thirteen hundred pages, is a classic of its kind. "The Office of the Holy Spirit," though not so popular, is regarded as a work of genuine merit.
He was one of the most helpful colaborers of Mr. Campbell. His passionate love of the Bible, and his ample equipment for its interpretation, soon brought the two together, and they were never separated till death broke the bonds of union. Their views of the Book were broad, philosophical and comprehensive. The controversial ph[r]ases were carefully studied and sharply stated; but this by no means covered the scope of their studies. The entire scheme of redemption, in all its developments and bearings, was set for with wonderful simplicity and power.
Dr. Richardson was also an invaluable helper on the Millennial Harbinger. . . . In 1835 Mr. Campbell called Dr. Richardson to Bethany, and their joint labors in editorial work began. Often the chief editor was called away, but his able assistant, with his hand at the helm, so skillfully directed the work that no injury resulted from his absence. The Harbinger is filled with his writings during this most important period, and eternity alone will reveal the value of his pen at this time. His influence was a mighty factor in saving the movement from bigotry and narrowness, and giving it the breadth and scope without which it could not have attained its present splendid proportions and power. This writer is of the opinion that Robert Richardson was of far greater worth to us than most of us ever dreamed, and that his invaluable services entitle him to a place with the Campbells, Scott and Stone, and other clear-headed and brave-hearted pioneers, who did so much for us in the years of our childhood.
Dallas, Tex.
_ _ _
Let's look at excerpts from another article about Richardson that appeared in Christian Standard a year later.
_ _ _
Christian Education
Conducted in the Interest of Our Schools and Colleges, by E. V. Zollars, President of Oklahoma Christian University
Nov. 26, 1910; p. 16
I am convinced that the disciples of Christ do not fully appreciate or understand the immense debt of gratitude that they owe to our early educators. Our great movement is essentially educational in its character. Alexander Campbell understood this fact when he founded Bethany College. Prominently associated with him in that work was Dr. Robert Richardson, who was a cultured Christian man in every sense of the word, and he thoroughly understood the importance of Christian education. . . .
Dr. Robert Richardson was born in Pittsburg, Pa., Sept. 27, 1806. By ancestry and early life he received the stamp of a refined nature. His father, Nathaniel Richardson, was a man of means, and, there in his home, ever open to friends, he came in contact with society. Nathaniel Richardson was a man of fine literary taste and thus secured a large and well-chosen library, in which Robert found his greatest enjoyment. . . .
Having decided to enter medicine as a profession, he studied under Dr. Plummer, of Pittsburg, and afterward attended lectures at the University of Pennsylvania, journeying between Pittsburg and Philadelphia on horseback, with his substance in saddlebags.
Thus steadily and quietly does he enter into manhood with a well-stored mind, a ripened judgment, a reflective habit that awakened careful action, and hence rendered him safe and sure in weighty matters that came to his attention in later life.
He says: "It is the characteristic feature of this reformation to endeavor to disentangle the Christian faith from doctrinal controversy, and to restore it to its original character as a simple reception of the facts concerning Christ—a heartfelt, personal reliance upon Christ alone."
"And, oh, how mighty would be the change in the condition of the religious world, if this personal trust in Christ could be substituted for those doctrinal controversies and that empty philosophy which have usurped its place."
"It is of this personal reliance in Christ that every true sectary is deficient. It is Luther, Calvin, Wesley too much, and Christ is ignored."
"Loyalty to Christ, rather than to doctrine, should be our aim and purpose."
His great service was to act as a strong, discriminating force in the office of the Harbinger and in the counsel-chamber of Mr. Campbell. It is thought by some that the massive generalizations of truth in which Mr. Campbell reveled were often changed in form by the counsel of Dr. Richardson.
He saw things in the concrete as well as in the abstract. This led him to a careful and discriminating method of expression. . . .
In the classroom, his work was above reproach. An old student of Bethany, who attended his classes, tells me that he probably had the strongest hold on the student life of any one of the Faculty.
For nineteen years he rode or walked from Bethphage, his Bethany home, two miles to the college, and never in all that time was known to be late.
Mr. Brown, class of 1877, writes concerning his service at the Lords' table in the old Bethany Church: "Never did high priest enter the 'Holy of Holies' with a more genuine reverence than did Dr. Richardson enter upon his duty on these occasions. By his timidity and reserve of manner he seemed to apologize for his presence at the communion table, yet among all the men whom I remember in this capacity, I recall none more worthy to dispense the sacred emblems of our Lord's body and blood. His presence was a benediction whose grace and sweetness abide with me after nearly a third of a century."
His noble work on the Holy Spirit and crowning work on the "Memoirs of Campbell" are worthy of frequent study and emphasis. Our students for the ministry should be required to prepare a careful study and a written review of these books.
I might say that if our colleges had grappled with the great foundation truths of this Reformation from Dr. Richardson's standpoint, it would have vitalized many a waning power and preserved some of our men from the desert wastes of mere mental gymnastics. . . .
He died in Bethany, W. Va., in 1876, and is buried in the Campbell cemetery. . . .
_ _ _
The late Leroy Garrett, a Restoration Movement historian, said of Dr. Richardson: "Perhaps the keenest thinker of all our pioneer fathers. He was . . . a beloved physician, a good man, a gentleman, humble and self-effacing, generous and benevolent. He was a splendid teacher and perhaps the best writer of all our early editors."
Much more can be learned about Dr. Richardson at such sites as www.therestorationmovement.com.
_ _ _
Jim Nieman, managing editor, Christian Standard